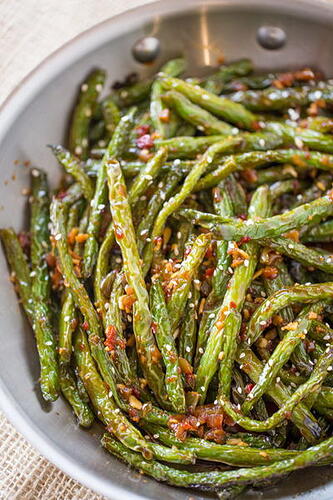 1 pound green beans trimmed
2 tablespoons canola oil
2 teaspoons chili garlic paste
2 green onions thinly sliced - white parts only
1 tablespoon garlic thinly sliced
2 tablespoons soy sauce
1 tablespoon rice vinegar
1 teaspoon sugar
1/4 cup water
1/2 teaspoon crushed red pepper flakes
To a wok add the canola oil and heat on medium-high heat.
Add the green beans and stir fry them for 3-5 minutes or until they start to shrivel up a bit.
Add in the garlic, green onions, chili-garlic paste and stir to combine.
Cook the garlic mixture for 30 seconds to a minute then add in the soy sauce, rice vinegar, sugar, water and chili flakes.
Cook for an additional 1-2 minutes or until most of the liquids are completely cooked off.
Garnish with sesame seeds if desired.