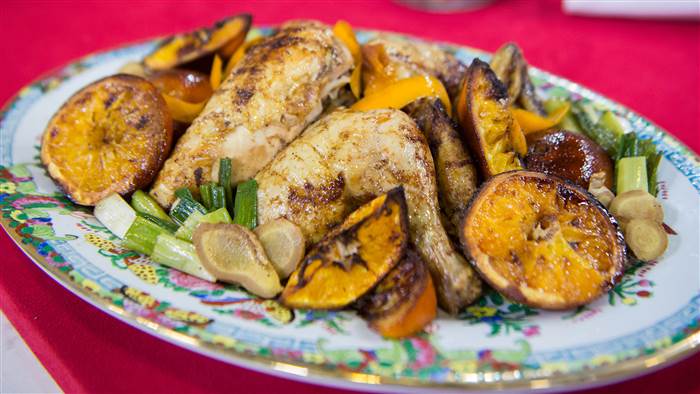 One 4 pound chicken, preferably organic
2 cups of boiling water
SPICE RUB
2 tablespoons peanut oil
1 teaspoon ground sea salt
1/2 teaspoon ground white pepper
1 tablespoon Chinese five spice powder
Zest of 1 orange
FILLING
4 spring onions, cut into 1 inch pieces
One 2-inch piece fresh root ginger, sliced into coins
2 pieces star anise
Peel of 1 orange
BASTING LIQUID
2 tablespoons low sodium light soy sauce
3 tablespoons agave syrup or honey
1 tablespoon water
CHINESE "SALSA VERDE" SAUCE
5 tablespoons peanut oil
2 tablespoons freshly grated root ginger
2 red chilies, seeded and finely chopped
2 scallions, finely chopped
2 tablespoons red rice vinegar (or red wine vinegar)
2 tablespoons light soy sauce
2 tablespoons chili oil
1 large mandarin orange, zest and juice
Insert a meat hook in the neck of the chicken and hold over a large tray. Ladle hot water over the chicken to shrink the skin, this will help it to crisp. Pat the chicken dry with paper towels. Mix all the ingredients for the spice rub in a small bowl. Rub the chicken with oil and then the spice mix. Stuff the inside of the bird with the spring onions, ginger, star anise and orange peel.

Heat the oven to 350°F, roast the chicken for 1 ½ hours (depending on the size of the bird). Combine all ingredients for the basting liquid in a small bowl and stir until the agave is fully dissolved. In the last 20 minutes of roasting, brush the basting liquid lightly over the chicken.

Prepare the Chinese "salsa verde" dressing. Combine all ingredients in a small serving bowl and set aside.

Remove the chicken from the oven. Check if it is cooked by inserting a meat skewer in the thickest part of the thigh and if the juices are clear then the meat is cooked (or reaches 165°F on an instant-read thermometer). Let it rest for about 20 minutes. Carve and serve with the Chinese "salsa verde" sauce.