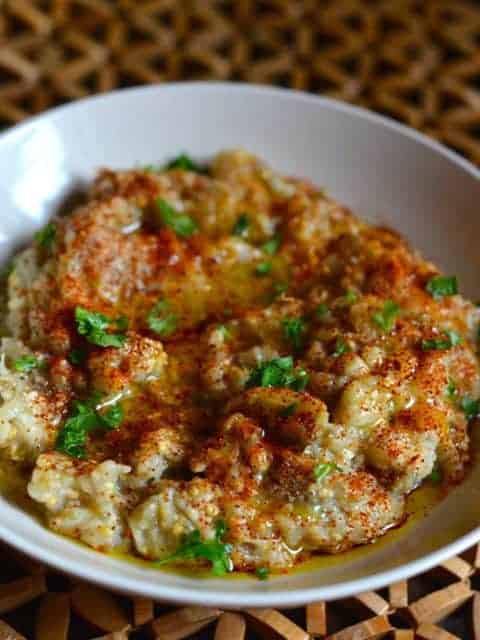 3 pounds eggplants
2 tablespoons tahini (sesame seed paste)
2 tablespoons lemon juice
1 1/2 tablespoons olive oil
1 teaspoon kosher salt
1 teaspoon minced garlic
1/4 teaspoon chipotle powder for dip
chipotle powder to sprinkle on top
Preheat oven to 350 degrees, slice eggplants in half. Place eggplant flesh down on a baking sheet that has been lined with parchment paper or one that has been sprayed with non-stick spray. Bake eggplants for 30 minutes, or until the flesh is soft. Allow eggplants to cool until they can be handled easily.
In a medium sized bowl scrape the meat of the eggplant into the bowl, discard the skins. Add tahini, lemon juice, olive oil, kosher salt, minced garlic and chipotle powder and mix well.
Pour into a serving dish and drizzle with additional olive oil and sprinkle some additional chipotle powder if desired.