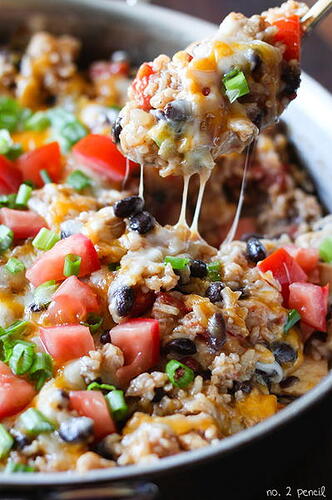 6 chicken breasts
1 canned chipotle pepper (I used Goya's)
2 teaspoons chipotle pepper sauce
2 cloves garlic, minced
1 teaspoon chili powder
2 teaspoons cumin
1/2 cup olive oil
1 lime
Black Beans
1 16 ounce can black beans, drained
1 teaspoon cumin
1 teaspoon garlic powder
1 teaspoon chipotle pepper sauce
Salt & pepper
Cilantro Lime Rice
2 cups white rice, cooked
3 tablespoons butter
1/4 bunch cilantro (about 1 cup chopped)
1 lime or 2 small limes
Toppings
3 cups shredded lettuce
1 cup sour cream
2 cups cheddar cheese
Pico de gallo
Guacamole
First, the marinade. Pull a spicy little pepper out of it's can and dice it. It will be sort of pasty when you are done. In a small bowl, take two spoonfuls of sauce straight from the can and then scrap in the chopped chipotle pepper. Add cumin, garlic, and chili powder. Mix together and pour in oil. Roll your lime on the counter until insides are mushy and squeeze juice into bowl. Stir well.
Place chicken in glass baking dish. Pour marinade over chicken. Cover and let sit in the fridge for at least 2 hours. The longer you marinade it, the more tender and flavorful it will be. Then, preheat over to 450°F. Bake for 25 minutes or until completely cooked.
While that chicken is cooking, you've got work to do! First, start cooking the rice, if you haven't already done so, using the directions on the package. Then, move on to the beans. Place drained black beans in a small saucepan. Add cumin, garlic powder, and chipotle sauce. Salt and pepper to taste and let beans cook on a low heat. Stir them up every few minutes.
Once the rice is done, add butter, cilantro, and lime juice. Stir until rice is well coated.
Pause and savor the spicy aroma filling your kitchen. Make sure the chicken is completely cooked and the juices are clear, not cloudy. Pull that chicken out and chop each breast into bite sized chunks.
Place chicken back in the glass dish and let it soak the juices back in.
Meanwhile. place toppings in colorful bowls.
Finally, assemble your burrito bowl and realize you are free. The 5 day rule is powerless against leftovers. Serve with tortilla chips or wrap the filling up in tortillas to make burritos or tacos.
6 servings