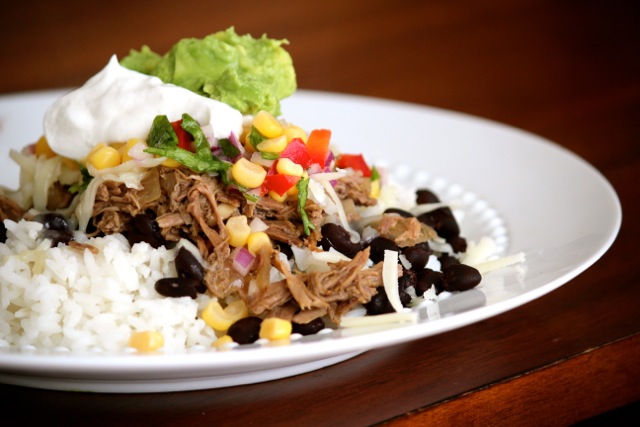 For Shredded Beef:
2.5-3 lb beef bottom roast, seasoned generously with salt and pepper
1 onion, chopped
3 cloves garlic, chopped
2-3 chipotle peppers in adobo (depending on the level of heat you want)
Juice of half a lime
1 T cumin
1/2 t cloves
2 bay leaves
1 c water
For Corn Salsa:
1 (14oz) can corn, drained
1/2 of a red onion, diced
1/4 c red bell pepper, diced
1 small jalapeño pepper, seeds removed and minced
1/4 c cilantro, chopped
Juice of 1 lime
2 t canola oil
1 t sugar
salt to taste
For Serving:
steamed rice (or lettuce or tortillas; see blog post)
black beans
jack cheese, grated
sour cream
guacamole
salsa
For Shredded Beef:
Place all the ingredients into a slow-cooker and cook on low for 8 hours. Shred meat using two forks directly in pot and mix with juices. Use a slotted spoon when serving.
For Corn Salsa:
In a bowl, mix all ingredients together. Refrigerate at least two hours prior to serving.
Yields: 6 servings