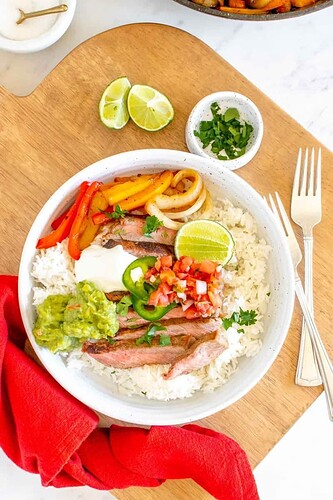 Steak and Marinade
1¼ pounds flank, skirt, or NY strip steak
3 tablespoons extra virgin olive oil divided use
3 chipotles in adobo sauce mashed
2 limes juiced
4 cloves garlic minced
1 teaspoon chili powder
1 teaspoon kosher salt
½ teaspoon smoked paprika
½ teaspoon garlic powder
Vegetables
1 tablespoon olive oil
1 large yellow onion sliced
3 bell peppers sliced into strips
½ teaspoon kosher salt
Toppings
Guacamole
Sour cream
Pico de Gallo
Jalapeno slices
Chopped fresh cilantro
Serving
6 cups cooked white rice
Steak and Marinade
In a large bowl, whisk together 2 tablespoons of olive oil, mashed chipotles in adobo sauce, lime juice, minced garlic, chili powder, kosher salt, smoked paprika, and garlic powder.
Place the steak in the bowl and turn to coat in the marinade. Cover and allow to marinate in the fridge for a minimum of 2 hours or overnight.
Heat a large skillet over medium-high heat. Once hot, add the remaining tablespoon of olive oil. Remove the steak from the marinade and place it in the hot skillet.
Cook until the desired doneness, about 4 minutes on each side for medium. Remove to a plate and cover with foil.
Vegetables
Add 1 tablespoon of olive oil to the same skillet.
Add the sliced onions and peppers. Season with salt and cook the veggies, stirring occasionally, for 5 to 7 minutes.
Serving
Once you have everything prepared, slice the steak into strips.
Add cooked rice to the bottom of bowls, and top with steak, vegetables, and toppings.