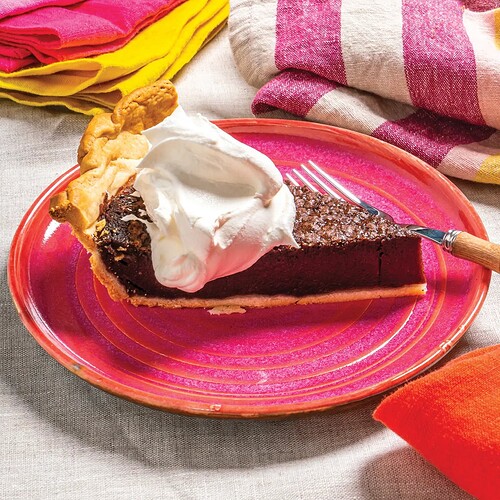 Crust
1 Tbsp. sugar
1 tsp. Diamond Crystal or ½ tsp. Morton kosher salt
1¼ cups (156 g) all-purpose flour, plus more for surface
½ cup (1 stick) chilled unsalted butter, cut into ½" pieces
½ cup chilled buttermilk
Filling and assembly
4 large eggs
1½ cups (300 g) sugar
1 cup buttermilk
½ cup (1 stick) unsalted butter, melted, cooled
2 tsp. vanilla extract
⅓ cup (39 g) Dutch-process cocoa powder, preferably Ghirardelli
¼ cup (31 g) all-purpose flour
½ tsp. Diamond Crystal or ¼ tsp. Morton kosher salt
Whipped cream (for serving)
Crust
Step 1
Whisk sugar, salt, and 1¼ cups (156 g) all-purpose flour in a medium bowl to combine. Using a pastry cutter or a fork, work butter until mixture resembles coarse crumbs. Make a well in the center and pour buttermilk into well. Using a fork, stir mixture into buttermilk a little at a time until an evenly moist dough forms. Transfer dough to a lightly floured surface and flatten into a thick disk. Wrap in plastic and chill at least 1 hour and up to 2 days.
Step 2
Let dough sit at room temperature 5 minutes. Unwrap and roll out on a lightly floured surface to a 12"-diameter round. Drape dough over rolling pin and transfer to a 9"-diameter pie dish. Unfurl and press gently into dish. Using kitchen shears or a small, sharp knife, trim dough so you have about ½" overhang. Fold overhang under and crimp edges as desired. Chill 30 minutes.
Filling and assembly
Step 3
Place rack in bottom third of oven; preheat to 375°. Whisk eggs and sugar in a large bowl to combine. Add buttermilk, butter, vanilla, cocoa powder, flour, and salt and whisk until smooth.
Step 4
Pour filling into chilled crust and bake 15 minutes. Reduce oven temperature to 350° and continue to bake pie until a tester inserted into the center comes out clean, about 45 minutes. Transfer to a wire rack and let cool. Slice with a serrated knife to create clean edges. Serve topped with whipped cream.