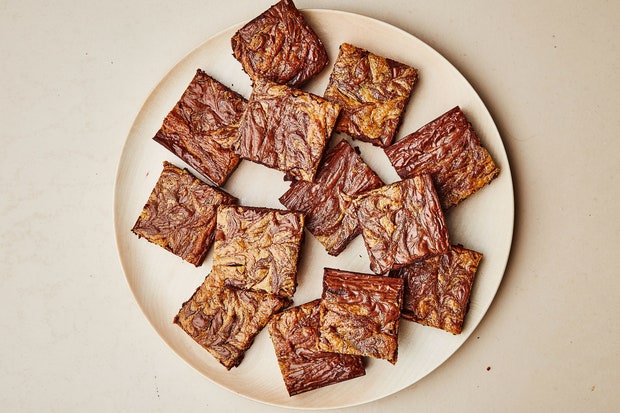 3 tablespoons cornstarch
2 tablespoons unsweetened cocoa powder
6 ounces bittersweet or semisweet chocolate, coarsely chopped
3 tablespoons virgin coconut oil
4 tablespoons tahini, divided
2 large eggs
1/3 cup granulated sugar
1/4 cup (packed) light brown sugar
1 teaspoons kosher salt
1 teaspoon vanilla extract
1 tablespoon light agave nectar
Preheat oven to 350°F. Line an 8x8" baking dish with 2 overlapping pieces of parchment, leaving overhang.
Whisk cornstarch and cocoa in a bowl until no lumps remain.
Heat chocolate, oil, and 1 Tbsp. tahini in a small saucepan over low, stirring,
until melted and smooth, about 1 minute; remove from heat.
Using an electric mixer on medium-high speed, beat eggs and both sugars in a large bowl until light, smooth, and doubled in volume, about 4 minutes.
Reduce speed to medium and beat in salt and vanilla.
Scrape in chocolate mixture and beat to incorporate; beat in cornstarch mixture.
Increase speed to medium-high and mix until batter is thick and stiff, about 1 minute.
Scrape into prepared baking dish and smooth top.
Stir agave nectar into remaining 3 Tbsp. tahini in a small bowl.
Dollop spoonfuls over batter in 5 or 6 spots; drag a skewer or toothpick through to swirl.
Bake brownies until edges are puffed, top is browned, and a tester inserted into the center comes out with a few moist crumbs attached, 22–26 minutes.
Let cool.
Remove from pan; cut into squares.