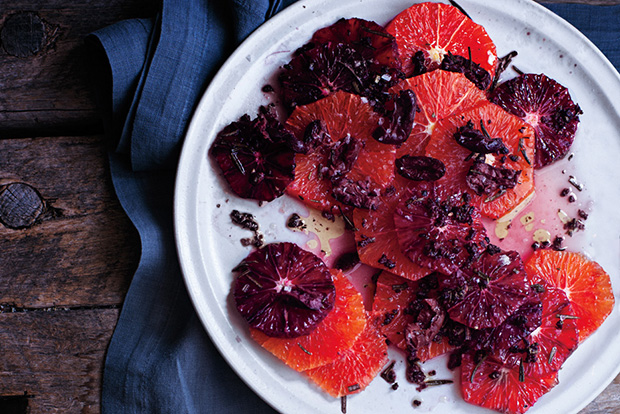 Vegetable oil
4 3-inch rosemary sprigs
kosher salt
10 pitted oil-cured black olives
6 blood oranges
6 Cara Cara oranges
freshly ground black pepper
2 tablespoons extra-virgin olive oil
Pour vegetable oil into a small heavy saucepan to a depth of 1". Prop deep-fry thermometer in oil so bulb is submerged; heat oil over medium heat to 350°F. Add four 3" rosemary sprigs to oil and fry until crisp and bright green, 10-15 seconds. Transfer to a paper towel–lined plate; season lightly with kosher salt. Add 10 pitted oil-cured black olives to oil; fry until bubbling stops, about 4 minutes. Place on plate with rosemary. Strip rosemary leaves from sprigs; mince. Chop olives. Using a small, sharp knife, cut peel and white pith from 6 blood oranges and 6 Cara Cara oranges. Cut crosswise into 1/2" rounds; arrange on a platter. DO AHEAD: Oranges, rosemary, and olives can be prepared 6 hours ahead. Cover and chill orange slices. Separately store rosemary and olives airtight at room temperature.
Season oranges lightly with salt and freshly ground black pepper; drizzle with 2 tablespoons extra-virgin olive oil. Sprinkle chopped rosemary and olives over oranges.