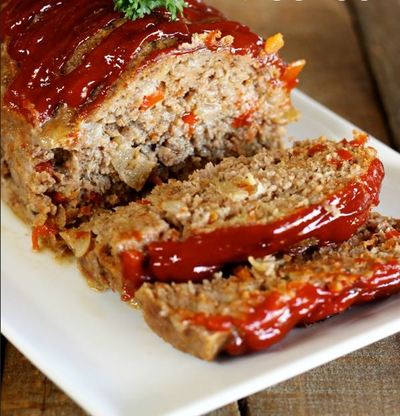 2 tsp. vegetable oil
2/3 c. onion, minced
2 cloves garlic, minced
1/2 c. red bell pepper, minced
1 carrot, grated
2 eggs, beaten
1 c. milk
2 tsp salt
1/2 tsp pepper
1/2 tsp. garlic powder
1/2 tsp. onion powder
1 Lb. ground beef
1 Lb. ground pork
1 c. breadcrumbs (Italian seasoned)
1/2 c. flour
1/2 c. ketchup
Preheat oven to 350 degrees.
Saute onion, garlic, red pepper and carrot in oil over medium heat until they become soft. In a medium-sized bowl combine eggs with milk, salt, pepper, garlic powder, and onion powder. In a separate, large bowl, mix breadcrumbs and flour into the beef and pork with your hands.
Add egg and milk mixture, sauteed veggies, ketchup and mix it up with your hands. Press the mixture into a meatloaf pan or a large loaf pan. Bake for 30 minutes, then spread ketchup over the top of the loaf, then bake for another hour.
Let it sit for a few minutes, then slice and serve!