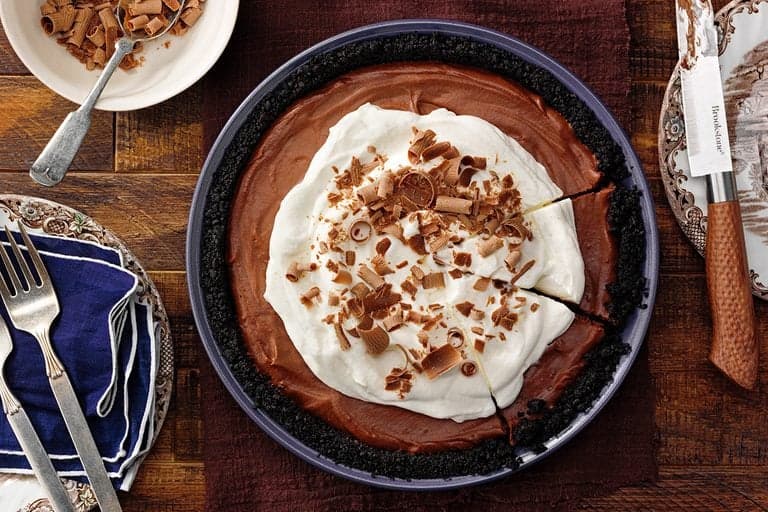 Crust:
1 9 oz. package thin chocolate wafer cookies (as for ice box cake, Nabisco brand)
6 tablespoons melted butter
Mousse filling:
4 eggs, separated
3/4 cup sugar
1 teaspoon vanilla
2 tablespoons brandy
1/4 pound (1 stick) unsalted butter
2 ounces best quality unsweetened chocolate
1/4 cup strong, brewed, cold coffee
1 cup cream, chilled
2 ounces best quality semi-sweet chocolate, roughly grated
Topping:
1 cup whipping cream
2 tablespoons sugar
6 ounces good quality semi-sweet chocolate for chocolate leaves and decoration
Crust: Preheat oven to 350F. Process cookie wafers in food processor until fine crumbs; combine with melted butter; using back of wooden spoon, press into bottom and half way up sides of 9" spring form pan; bake 12-14 minutes; remove from oven and allow to cool.
Mousse: Using hand electric beater, beat egg yolks in top of double boiler with half cup sugar, vanilla, brandy over simmering water until thick and pale yellow, about 6 minutes. Remove from heat, pour into large bowl and set aside. Melt the unsweetened chocolate; gradually beat the butter into melted chocolate, a tablespoon at a time; beat in the coffee; beat in the yolk mixture, combining until light and fluffy; set aside. With clean beaters, beat the egg whites until foamy; beat in the remaining 1/4 cup sugar a little at a time until stiff. Beat the 1 cup of chilled cream until stiff. With same beaters, beat about 1/2 cup of the whites into the chocolate egg mixture; gently fold in the remaining whites, then fold in the whipped cream. Lastly, fold in the grated semi-sweet chocolate. Spoon into prepared chocolate crust and smooth top with spatula. Cover and chill at least 4 hours or preferably overnight.
To finish pie: Line a flat sheet with waxed paper; cut about 16 large heavy, leaves from camellia or similar plant; wash and dry thoroughly; spray the UNDERSIDE of each leaf with a little non-flavored vegetable cooking spray; melt the 6 ounces of semi-sweet chocolate; using pastry brush, coat the UNDERSIDE of each leaf with heavy coating of the melted chocolate; place on sheet; repeat with all leaves; chill thoroughly. Whip the cream with the sugar until stiff. Remove pie from spring form and place on dish; using pastry bag fitted with large tip, pipe whipped cream decoratively around edge of pie; peel leaves from chocolate and place chocolate leaves around edge of pie. Chill until ready to serve. (Alternatively, if leaves are unavailable, grate the chocolate with a peeler, forming large, wide curls and decorate edge of pie).
Source: NBC Today show May 04, 2004