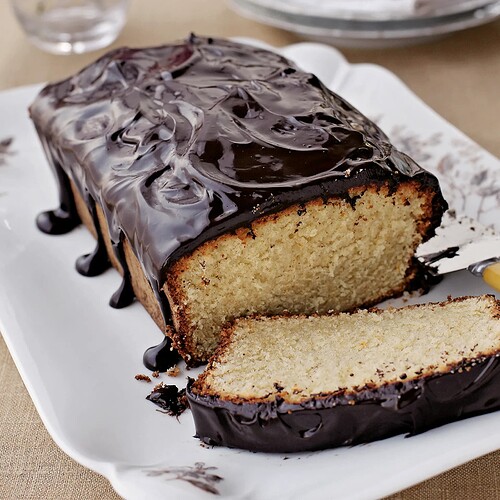 1½ cups cake flour (not self-rising)
½ tsp. baking powder, preferably aluminum-free
¼ tsp. baking soda
½ tsp. fine sea salt
1¼ cup granulated sugar
1 Tbsp. grated clementine zest
12 Tbsp. (1½ sticks) unsalted butter, at room temperature
5 ounces cream cheese, at room temperature
3 large eggs, at room temperature
1 tsp. pure vanilla extract
For the chocolate honey glaze
½ cup heavy cream
2 Tbsp. honey
2 ounces semisweet chocolate, finely chopped, or ⅓ cup semisweet chocolate chips
2 ounces bittersweet chocolate, finely chopped, or ⅓ cup bittersweet chocolate chips
1 tsp. pure vanilla extract
Step 1
Position a rack in the middle of the oven and preheat the oven to 350°F. Spray a 9-by-5-inch loaf pan with nonstick spray and line with parchment, leaving an overhand on the two long sides of the pan. (This will make it easy to remove the cake from the pan.)
Step 2
Sift together the flour, baking powder, baking soda, and salt. Set aside.
Step 3
In a small bow, combine the sugar and clementine zest. Set aside. (Mixing the zest with the sugar will help distribute the zest more evenly in the batter.)
Step 4
In the bowl of a stand mixer fitted with the paddle attachment (or in a large mixing bowl, using a handheld mixer), cream the butter and cream cheese together on medium speed for 2 to 3 minutes, until smoother. Gradually add the sugar mixture and then beat on medium-high speed until very light and fluffy, 4 to 5 minutes. Add the eggs one at a time, mixing well after each addition and scraping down the sides of the bowl as necessary. Add the vanilla and mix until combined.
Step 5
With the mixer on low speed, add the flour mixture in thirds, mixing just until incorporated. Remove the bowl from the mixer and, until the rubber spatula, incorporate any ingredients hiding at the bottom of the bowl, making sure the batter is completely mixed.
Step 6
Scrape the batter into the prepared pan and gently smooth the top with a spatula. Tap the pan firmly on the counter to remove any air bubbles from the batter.
Step 7
Bake for 50 to 60 minutes, until a cake tester inserted in the center of the cake comes out clean. Let the cake cool in the pan on a wire rack for about 20 minutes, then remove it from the pan, using the parchment, peel off the parchment, and cool completely on the rack.
Step 8
To make the glaze: In a small saucepan, heat the cream to a gentle boil. Put the honey in a small mixing bowl and pour the hot cream over the honey. Add both chocolates and stir until completely melted and smooth; the glaze will be shiny and glossy. Stir in the vanilla. Let cool until slightly thickened.
Step 9
Put the cake on a serving platter and pour the glaze over it, allowing it to drip down on the sides. Let stand until the glaze has set.