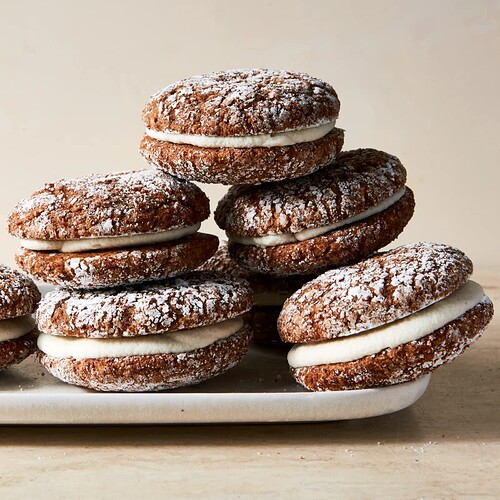 Cookies:
1 stick unsalted butter
1 1/4 cups unsweetened shredded coconut
1 (13.5-oz.) can unsweetened coconut milk, chilled overnight
2 cups all-purpose flour
1 Tbsp. baking powder
1/4 tsp. baking soda
1/2 tsp. freshly grated nutmeg
1/4 tsp. ground cinnamon
2 large eggs, room temperature
2 tsp. vanilla extract
1 tsp. Diamond Crystal or ½ tsp. Morton kosher salt
1 1/2 cups plus 1/3 cup coconut sugar
1/2 cup powdered sugar
Ganache and assembly:
6 oz. high-quality white chocolate (at least 30% cacao)
2 tsp. dark rum or rye whiskey
¾ tsp. Diamond Crystal or ½ tsp. Morton kosher salt
Cookies:
Melt butter in a medium skillet over medium heat. Cook shredded coconut, stirring often, until golden brown, about 3 minutes (coconut will continue to darken after you remove it from heat). Scrape into a small bowl and let cool slightly.
Open coconut milk without shaking can and scoop solidified coconut cream off the top into a small bowl; set aside for ganache (you'll need 5 Tbsp.). Reserve remaining coconut milk.
Whisk flour, baking powder, baking soda, nutmeg, and cinnamon in a medium bowl to combine. Whisk eggs, vanilla, salt, 1½ cups coconut sugar, and 3 Tbsp. reserved coconut milk in a large bowl. Whisk in half of dry ingredients. Using a rubber spatula, mix in shredded coconut mixture, then add remaining dry ingredients and mix just until no dry streaks remain. Cover dough and chill at least 2 hours.
Place a rack in middle of oven; preheat to 325°F. Place powdered sugar and remaining 1/3 cup coconut sugar in separate shallow bowls. Using a #20 cookie scoop (or a heaping 3 Tbsp.), portion out 18 pieces of dough and roll into smooth balls between your palms. Working one at a time, gently toss balls in coconut sugar to coat, then toss in powdered sugar. Divide cookies between 2 parchment-lined baking sheets, spacing at least 2" apart.
Bake 1 sheet of cookies, rotating baking sheet front to back halfway through, until centers of cookies are puffed and edges are just firm, 16–18 minutes. Repeat with remaining sheet of cookies (baking the sheets one at a time gives your cookies the best crinkles). Let cookies cool 20 minutes on baking sheets. Transfer to a wire rack and let cool completely. Turn half of cookies over.
Ganache and assembly:
Heat white chocolate, rum, salt, and 5 Tbsp. reserved coconut cream in a medium heatproof bowl set over a medium saucepan of simmering water (do not let bowl touch water), stirring with a heatproof rubber spatula, until chocolate is melted and mixture is smooth, about 5 minutes. Chill ganache until cool but not solid, about 1 hour.
Using an electric mixer on high speed, beat ganache until light and spreadable, about 1 minute. Spread a layer of ganache over upside down cookies. Top each with a right-side up cookie, pressing gently to adhere.