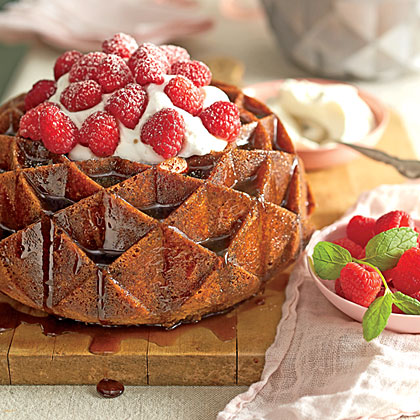 6 large eggs, separated
1 1/4 cups granulated sugar
1 teaspoon coffee extract
2 cups all-purpose flour
1 tablespoon baking powder
1 tablespoon finely ground coffee
1 teaspoon kosher salt
3/4 cup butter, melted
1/2 cup milk
3 cups firmly packed light brown sugar
3 cups brewed coffee
1/2 cup rum, you can substitute an additional 1/2 cup brewed coffee
Garnishes: whipped cream, fresh raspberries, powdered sugar
Preheat oven to 350°. Whisk together yolks and granulated sugar until mixture is thick and pale (about 2 minutes). Stir in coffee extract. Sift together flour and next 3 ingredients; gently stir into yolk mixture until just blended. Stir in butter and milk until just blended.

Whisk egg whites until stiff peaks form. Fold one-third egg whites into yolk mixture. Fold in remaining egg whites. Pour into a well-buttered 10-cup Bundt pan.

Bake at 350° for 50 minutes or until a wooden pick inserted in center comes out clean. Cool in pan on a wire rack 10 minutes. (Do not remove from pan.)

Meanwhile, bring brown sugar and brewed coffee to a boil in a medium saucepan. Reduce heat to low, and simmer, stirring occasionally, 20 minutes. Remove from heat; stir in rum. Reserve 2 cups syrup. Return pan to stove top; cook over medium-low heat, stirring occasionally, 15 minutes or until slightly thickened.

Pierce cake 10 to 15 times using a skewer. Pour reserved 2 cups thin syrup over cake. Let stand 15 minutes. Invert cake onto a serving platter. Spoon desired amount of thickened syrup over cake. Reserve remaining syrup for another use (such as topping pancakes).
Southern Living