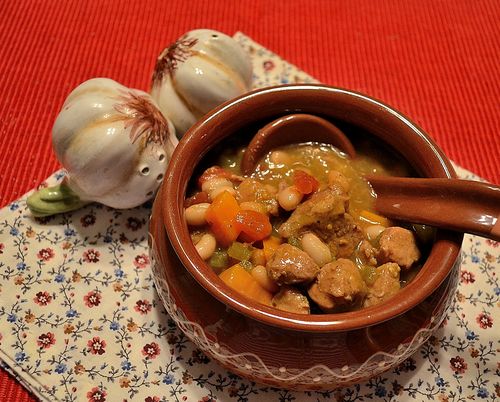 2 Tbsp Olive Oil
2 cloves garlic, minced
1 large onion, diced
1 sweet green pepper, diced
1 cup celery, diced
3 lbs boneless Pork ribs or Pork Loin, cut into 1" cubes
1 10 oz can Ro-tel Tomatoes (diced tomatoes w/green chilies)
2 14.5 oz cans Chicken Broth
2 16 oz jars Herdez Salsa Verde (green salsa) (pick the heat level you like)
16 oz dried Navy Beans
1 1/2 Tbsp Chili Powder
1 1/2 Tbsp Cumin
1 Tbsp Smoked Paprika
1 1/2 Tbsp Brown Sugar
2 oz Semisweet bakers Chocolate (or 2 mini Hershey bars)
Salt and Pepper to taste
1 large Sweet Potato, cubed
Optional: Jalapenos or Green Chilies and Sour Cream to garnish
In a heavy-bottomed skillet over medium heat, saute garlic, onion, sweet pepper, and celery in olive oil until onion is tender.
Add pork and brown.
Place vegetables, pork, and rest ingredients EXCEPT sweet potato in slow cooker/Crock-Pot and cook on low for 6-8 hours.
Cook's note:
Can also simmer for 4 hours on stove top in a dutch oven or soup pot.
In both stove top and slow cooker methods, extra water may be needed during cooking as beans rehydrate.
Boil sweet potatoes separately, on stove top in medium saucepan, until just tender. Do not over cook. Drain and add to chili. Cook 1 hour (30 minutes for stove top) longer to allow flavors to combine.
Optional:
Serve with jalapeno and/or green chilies and sour cream garnish.