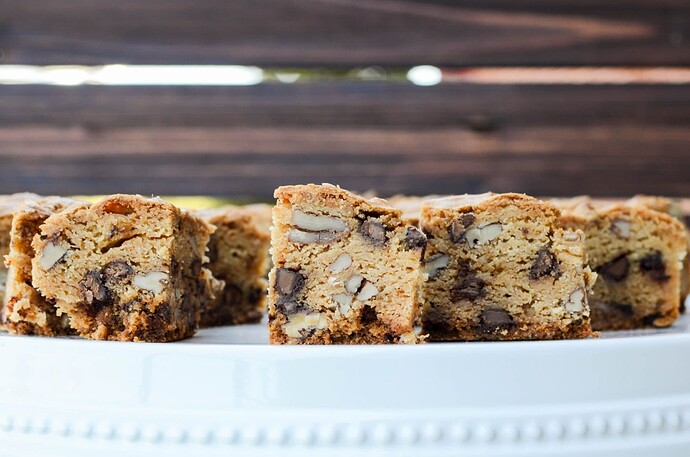 From Cook's Illustrated. Published July 1, 2005.
Makes 36 bars.
Despite their name, Congo bars have nothing at all to do with Africa. In fact, they are little more than blondies enriched with coconut – an ingredient that was exotic in years past perhaps but is far from it these days. We tried adding both sweetened, flaked coconut and unsweetened, shredded coconut to our blondies, and tasters unanimously preferred the unsweetened. Sweetened coconut did little but make the bars overly sweet and unpleasantly chewy. We were able to extract a bit more flavor from the unsweetened coconut by toasting it golden brown before adding it to the blondie dough. If you have trouble locating unsweetened shredded coconut, try a natural food store or an Asian market. Keep a close eye on the coconut when toasting as it can burn quickly.
1 cup pecans (or walnuts), toasted and chopped coarse
1 1/2 cups unsweetened shredded coconut
1 1/2 cups unbleached all-purpose flour (7 1/2 ounces)
1 teaspoon baking powder
1/2 teaspoon table salt
12 tablespoons unsalted butter (1 1/2 sticks), melted and cooled
1 1/2 cups packed light brown sugar (10 1/2 ounces)
2 large eggs , lightly beaten
4 teaspoons vanilla extract
6 ounces white chocolate chips (1 cup) or chopped bar, or 3 ounces each white chocolate and semisweet chocolate chips
 1. Adjust oven rack to the middle position and heat oven to 350 degrees. Spread nuts on larged rimmed baking sheet and bake until deep golden brown, 10 to 15 minutes. Transfer nuts to cutting board to cool; chop coarsely and set aside. Toast coconut on same rimmed baking sheet, stirring 2 to 3 times, until light golden, about 5 to 7 minutes.

2. While nuts and coconut toast, cut 18-inch length foil and fold lengthwise to 8-inch width. Fit foil into length of 13 by 9-inch baking pan, pushing it into corners and up sides of pan; allow excess to overhang pan edges. Cut 14-inch length foil and fit into width of baking pan in same manner, perpendicular to first sheet (if using extra-wide foil, fold second sheet lengthwise to 12-inch width). Spray foil-lined pan with nonstick cooking spray.

3. Whisk flour, baking powder, and salt together in a medium bowl; set aside.

4. Whisk melted butter and brown sugar together in medium bowl until combined. Add eggs and vanilla and mix well. Using rubber spatula, fold dry ingredients into egg mixture until just combined; do not overmix. Fold in chocolate, coconut, and nuts and turn batter into prepared pan, smoothing top with rubber spatula.

5. Bake until top is shiny, cracked, and light golden brown, 22 to 25 minutes; do not overbake. Cool on wire rack to room temperature. Remove bars from pan by lifting foil overhang and transfer to cutting board. Cut into 2-inch squares and serve.