Peanut Butter Blossom Cookies
Total Time
Prep: 15 min. Bake: 10 min./batch + cooling
Makes
3 dozen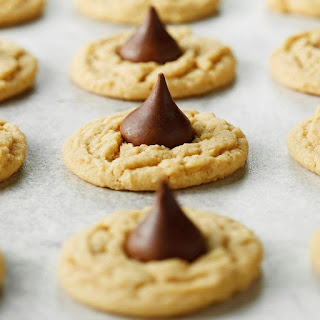 Here's proof that peanut butter and chocolate just belong together. These peanut butter blossom cookies are an easy family favorite and never fails to make my children smile. —Tammie Merrill, Wake Forest, North Carolina
Ingredients
1/2 cup butter, softened
1/2 cup creamy peanut butter
1/2 cup sugar
1/2 cup packed brown sugar
1 large egg, room temperature
1-1/4 cups all-purpose flour
3/4 teaspoon baking soda
1/2 teaspoon baking powder
1/4 teaspoon salt
36 milk chocolate kisses
Directions
Preheat oven to 350°. Cream butter, peanut butter and sugars until light and fluffy, 5-7 minutes. Beat in egg. In another bowl, sift together flour, baking soda, baking powder and salt; beat into peanut butter mixture.
Drop by level tablespoonfuls 2 in.
apart onto ungreased baking sheets. Bake until light brown, 10-12 minutes.
Remove from oven; immediately push a chocolate kiss into the top of each cookie. Cool on pans 2 minutes; remove from pans to wire racks to cool completely.
Enjoy the cookies with tea or milk gir kids.