Coq Au Vin Rosettes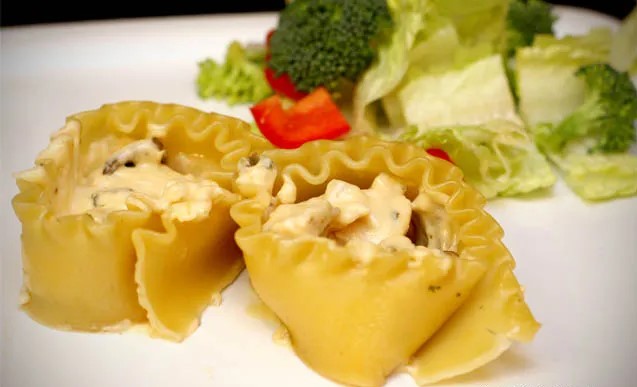 =-=-=-=-=-=-=-=-=-=-=-=-=-=-=-=-=-=-=-=-=-=-=-=
Lose Weight While Still Enjoying Your Favorite
Meals with this Water Hack
=-=-=-=-=-=-=-=-=-=-=-=-=-=-=-=-=-=-=-=-=-=-=-=
Ingredients:
1/2 cup Muenster cheese
1/4 cup of Swiss cheese
1/4 cup of Romano cheese
4 oz Cream cheese
2 Chicken breasts
8 Lasagna noodles
4 oz Mushrooms
1 tablespoon of butter
1/4 cup of Diced onions
1/3 cup of White wine
1 teaspoon savory
1/2 teaspoon coarse black pepper
1/4 cup of sour cream
1 tablespoon flour
1/4 cup of cream
Slivered toasted almonds
Directions:
Cut chicken meat into small chunk pieces. In skillet, sautee butter, onion, and mushrooms (about 5 minutes).
Add chicken to onion and mushrooms; cook over medium heat about 5 minutes.
Add wine and savory; Cook for 10 minutes, covered, on medium-low.
Cook noodles as directed and run under cold water. Cut off bottom frill of noodles. Roll noodles, leaving a 2 1/2" center and stand up in casserole dish. Using a slotted spoon, spoon chicken mix into each noodle center.
Dice cream cheese into cubes and add to skillet with wine sauce; heat till melted. Mix together sour cream, cream and 1 tablespoon flour; add to skillet. Stir till blended.
Add cheeses and pepper; stir till melted. Spoon over lasagna rings; garnish with almonds.
Bake at 325 for 20 to 25 minutes.
Until Next Time… Be Well!
Kind Regards,
RSN
=-=-=-=-=-=-=-=-=-=-=-=-=-=-=-=-=-=-=-=-=-=-=-=-=-=-=-=-=-=-=-=
Struggle With Sleeplessnes? Try – Harmonium Sleep Support
=-=-=-=-=-=-=-=-=-=-=-=-=-=-=-=-=-=-=-=-=-=-=-=-=-=-=-=-=-=-=-=