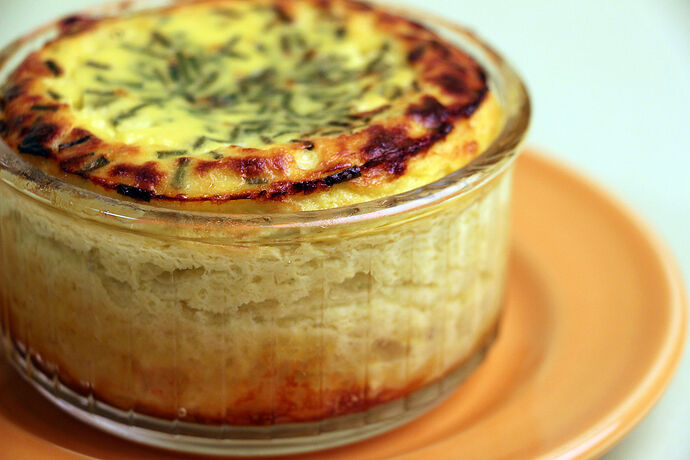 2 large or 3 smaller ears sweet corn, as young and fresh as possible, husked
1/2 cup diced Gruyère cheese
1/2 cup half-and-half
3 large eggs
2 tablespoons diced poblano or jalapeno pepper, or to taste
1/2 teaspoon salt
1/2 teaspoon freshly ground black pepper
2 tablespoons chopped fresh chives
1 tablespoon unsalted butter, for the soufflé molds
Preheat the oven to 400 degrees.
Using a sharp knife or mandoline, cut the corn kernels off the cobs. (You should have 2 1/2 to 3 cups corn kernels.) Put the corn, Gruyère, half-and-half, eggs, chili pepper, salt, and pepper in a blender (a blender makes a smoother mixture than a food processor) and blend for about 1 minute, until smooth. Add the chives and pulse to mix them in.
Butter four 3/4- to 1-cup soufflé molds or a 4-cup gratin dish. Fill with the corn mixture and place on a baking sheet. (The soufflé can be refrigerated for several hours before baking.)
Bake the soufflé for about 25 minutes, until puffy, golden, and set. Serve right away.
Jacques Pépin