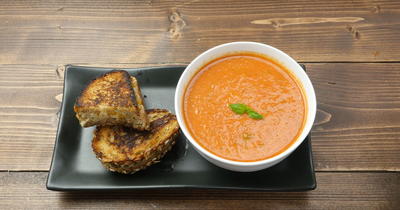 4 cans diced tomatoes
2 tablespoons olive oil
1 tablespoon butter
4 garlic cloves, minced
1 onion, chopped
2 stalks celery, chopped
1 carrot, chopped
4 cups chicken stock
1 tablespoon sugar
1/2 cup half & half
1/2 cup chopped basil
1/2 teaspoon dried oregano
salt and pepper, to taste
Preheat oven to 400 degrees F.
Place the diced tomatoes (with the juice reserved for later) on a baking sheet. Drizzle with 1 tablespoon of olive oil. Season with salt and pepper. Roast the tomatoes in the 400 degree F oven for 40 minutes. Keep an eye on the tomatoes and stir them around if they start to burn.
In a large stock pot, heat 1 tablespoon olive oil and butter over medium-high heat.
Cook the minced garlic for 30 seconds. Then add the chopped onion, celery, and carrots. Sauté until vegetables are softened and the onions are translucent.
Add the roasted tomatoes, reserved tomato juice, chicken stock, and sugar. Simmer until it starts to thicken, or about 15 minutes.
Add the half and half, basil, oregano, salt, and pepper.
Puree the soup in a food processor fitted with a steel blade. Process for 2-3 minutes or until the soup is smooth.
Return the soup to the stove top and bring to a simmer. Adjust the seasonings. Serve with croutons and fresh basil.