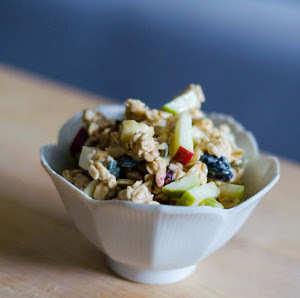 1 3/4 cup old fashioned oats
1 8 oz container yogurt, vanilla is great
1 cup milk (or soy milk)
1 T. honey
1 t. vanilla extract
1 t. salt
1 cup trail mix, chopped, or any dried fruits, nuts, and seeds you like
1 cup chopped apples
1 cup chopped bananas
Combine oatmeal, yogurt, milk, honey, vanilla, and salt in a large bowl and mix well.
Store in an airtight container for at least 4 hours or overnight in the refrigerator.

Add the chopped trail mix, chopped apple, and chopped banana. Stir and serve cold.
Keeps well in an airtight container for up to 3 days.
The fruit does brown though so if you're storing it for long be sure the container is
very airtight or just add in the fruit to the part you are serving each day.