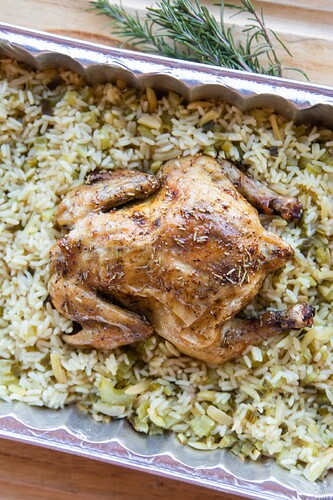 Cornish Hen:
2 small cornish hens
2 tbsp. olive oil
1/2 tsp. kosher salt
1/2 tsp. black pepper
1/2 tsp. dried rosemary, crushed
1/2 tsp. lemon zest
1/2 tsp. thyme leaves
1/2 tsp. garlic powder
Rice Casserole:
5 tsp. chicken bouillon base
2 cups hot water
1/2 cup butter, unsalted
1 cup white rice
1/2 cup celery, chopped
1/2 cup green onions, chopped
1/2 cup slivered almonds
Cornish Hen:
Preheat oven to 400°F.
Combine the olive oil and herbs in a small bowl. Brush hens with mixture.
Place the hens in a casserole dish or on a baking sheet.
Bake one hour or until internal temperature reaches 165 degrees.
Remove from the oven and loosely tent with foil before cutting.
Rice Casserole:
Preheat the oven to 350°F and prepare a casserole dish with cooking spray.
Mix bouillon base in the hot water.
In a large skillet set over medium heat, melt the butter. Add in the rice and cook to toast the rice slightly. Pour in the bouillon water and stir well to combine.
Transfer the rice and liquid to a casserole dish (or disposable dish as seen on the show) and cover. Bake for 30 minutes.
Remove from the oven and stir in the celery, green onions, and almonds. Return to the oven and bake covered for another 30 minutes.