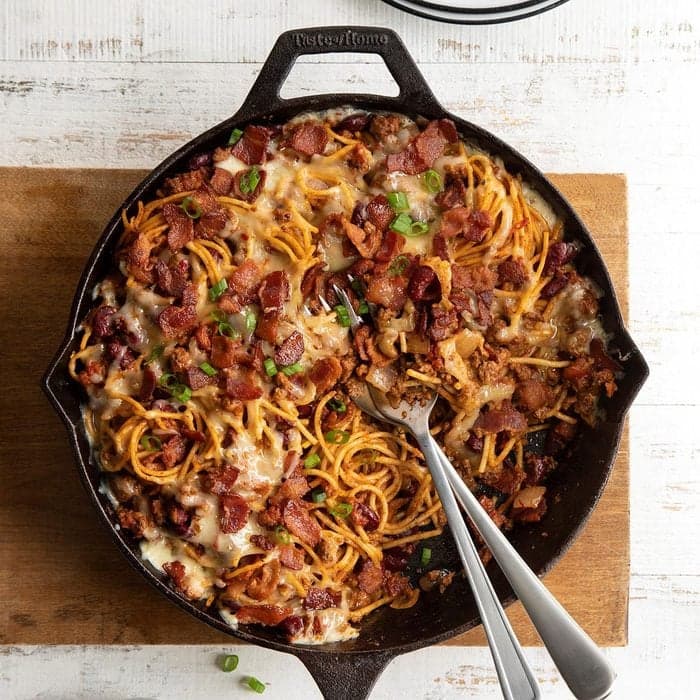 1 pound spaghetti
salt
1 tablespoon extra-virgin olive oil
3 slices bacon, chopped
1 pound lean ground beef
1 medium onion, chopped
3-4 garlic cloves, chopped
fresh ground black pepper
2 teaspoons hot sauce
1 tablespoon worcestershire sauce
1 tablespoon chili powder
1/2 tablespoon ground cumin
5 ounces ale beer, about 1/2 bottle
14 ounces crushed fire roasted tomatoes
8 ounces tomato sauce
2 tablespoons butter
2 tablespoons flour
1 cup chicken stock
1 cup milk
2 1/2 cups shredded cheddar cheese
1/4 cup pickled jalapeno peppers, finely chopped
4 scallions, chopped
Bring a pot of water to a boil. Add a generous amount of salt, then the
pasta and cook spaghetti until al dente according to package directions.

Heat a deep skillet over medium-high heat. Add olive oil and bacon. Brown
and crisp bacon, about 5 minutes, then remove with a slotted spoon to a
paper towel-lined plate and reserve. Drain off a little excess fat if
necessary but leave just enough to coat the bottom of the skillet. Add the
sirloin and crumble it with a wooden spoon as it browns, 3-4 minutes. Add
the onions and garlic, and season with salt, pepper, hot sauce,
Worcestershire, chili powder and cumin.

Cook for another 5-6 minutes. Add the beer, cook for 1 minute more then
add tomatoes and tomato sauce. Bring up to a bubble and continue to cook for 5 minutes.

While the meat sauce is cooking, make the cheese sauce: Heat a small
sauce pot over medium heat and add butter. When the butter melts, stir in
the flour and cook for 1 minute. Whisk in the chicken stock and then the
milk. Thicken for 2 minutes then stir in the cheese and melt, for another 2
minutes. Stir in the jalapenos and scallions. Season with a little salt and
pepper.

Drain spaghetti, add to the meat sauce and combine.

Pour into a large serving bowl and pour the cheddar cheese sauce over the top.