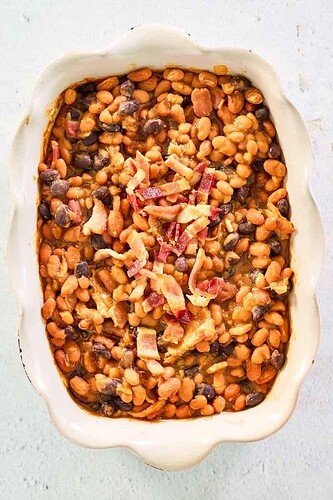 8 ounces diced bacon divided use
1 cup chopped onion
1 15-ounce can black beans
1 15-ounce can pinto beans
2 53-ounce cans pork and beans any Van Camps brand preferred
2 tablespoons prepared yellow mustard
2 tablespoons brown sugar
1 tablespoon molasses
Preheat oven to 350°F.
Set 1/4 cup of the diced bacon aside. This will be fried later and used as a topping.
In a medium-sized skillet, saute chopped onions and remaining diced bacon until the bacon is cooked but is not crispy and the onions are translucent. Drain cooked bacon and onions on a paper towel.
Drain and rinse the black beans and the pinto beans in a colander.
Place rinsed and drained pinto and black beans in a large oven-proof pot.
Add the canned pork and beans to the pot.
Add cooked onions and bacon, yellow mustard, brown sugar, and molasses. Stir until all ingredients are well combined.
Place a lid over the pot.
Place the pot in the oven and bake for approximately 1 hour or until the beans are warmed.
While the beans are cooking, fry the ¼ cup of bacon until crispy.
Just before serving sprinkle the cooked bacon on top of the beans.