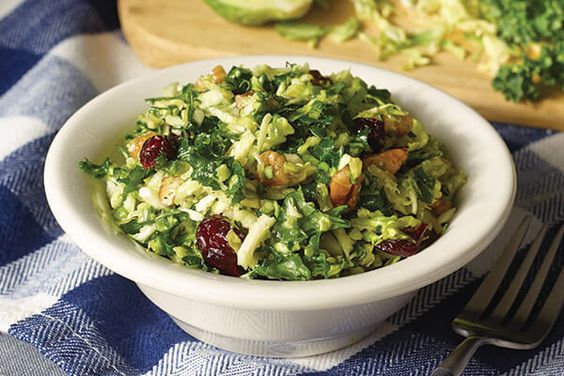 5 cups chopped Brussel sprouts
5 cups finely sliced kale
1/2 cup Craisins You can add more or less
3/4 cup pecans
Vinaigrette
3/4 cup white vinegar
1/2 cup sugar
1/2 cup maple syrup do not use pancake syrup
1 teaspoon salt
1 1/2 teaspoons dijon mustard
1/2 cup vegetable oil
Wash kale, and pat dry with a towel.
Cut the stem and discard from each stalk of kale. The stems can be woody and tough.
Roll leaves like a cigar, and slice the leaves as fine as you can, then give them a couple of horizontal slices to break up the long pieces.
Wash sprouts, and pat dry. Slice of the stem end. Place the stem end down, and cut Brussel sprouts in half. Lay the flat cut of the sprout on the cutting board, and then slice as small as you can.
In a large bowl add 5 cups of sliced kale, 5 cups of Brussel sprouts, Craisins and pecans.
Vinaigrette
In a small bowl combine, white vinegar, vegetable oil, sugar, salt, maple syrup, and dijon mustard. Whisk until this is blended well.
Pour well-blended dressing over vegetables, and stir well. Cover and refrigerate for at least 30 minutes before serving.