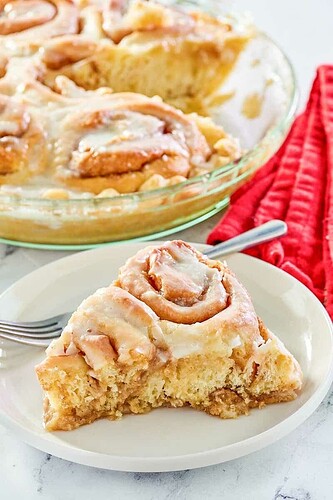 2 unbaked pastry pie shells
Cinnamon Roll Dough
1 cup milk lukewarm
2 large eggs at room temperature
5 tablespoons butter softened
4½ cups all-purpose flour
1½ teaspoons salt
½ cup sugar
2½ teaspoons instant yeast or active dry yeast or one 1/4-ounce packet of Platinum Yeast from Red Star
Cinnamon Roll Filling
1 cup brown sugar
6 tablespoons softened butter
3 tablespoons ground cinnamon
Cinnamon Roll Icing
2 cups powdered sugar
2 tablespoons melted butter
1 teaspoon vanilla extract
4 tablespoons milk, heavy cream, or half and half
To make the dough, combine lukewarm milk, eggs, all-purpose flour, salt, sugar, and yeast in a mixer. Mix for 3 minutes. The dough will be sticky and that's ok.
Place the dough in a an oiled bowl, and turn dough to grease all sides. Cover with a clean towel. The dough will take 1 to 2 hours to double in size, this will depend on the temperature of the room.
While the dough is rising, make the cinnamon roll filling.
Combine brown sugar, 6 tablespoons softened butter, and ground cinnamon in a bowl.
Mix with a mixer until smooth.
When the dough has doubled in size, turn it out onto a floured board.
Roll out the dough into a rectangle that is ⅜ inches thick.
Spread the cinnamon mixture onto the dough.
Start with the short end and roll the dough, but not too tightly, into a log.
Cut the log into 12 to 14 equal-sized pieces.
Place the center roll into each of the pie shells. Then add the remaining rolls to the pie shell.
Cover with a clean towel, and let the dough rise again for 30 minutes.
Preheat oven to 375°F.
Place both of the cinnamon roll pies into the oven. Bake for 15 to 20 minutes.
While the pies are baking, make the icing by combining 2 tablespoons of melted butter, powdered sugar, and heavy cream. Stir until smooth.
After the pies have been removed from the often, wait about 20 minutes before topping them with the icing.