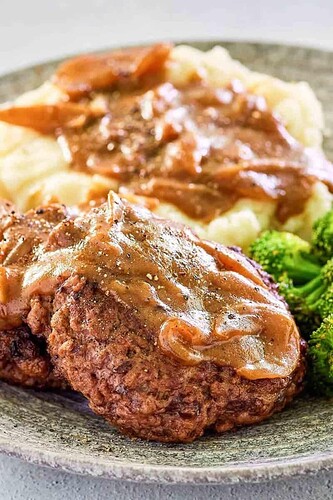 Hamburger Steak:
1½ pounds ground beef chuck
½ teaspoon salt
¼ teaspoon ground black pepper
¼ teaspoon onion salt
¼ teaspoon garlic powder
Onion Gravy:
1 cup white onion slices
1 tablespoon all-purpose flour
1½ cups beef broth
Hamburger Steak:
In a medium size bowl, combine ground chuck, salt, ground black pepper, onion salt, garlic powder. Mix to combine well.
Form the meat mixture into 4 equal round flat patties.
Heat a cast iron skillet to medium high heat.
Place the hamburger steaks in the hot skillet. Be careful not to crowd the steaks too much. Cook for 3 to 4 minutes.
Flip the steaks over, and cook for 3 to 4 minutes on the other side. The steak should have a sear on it and be browned.
Remove steaks from skillet, and set aside.
Onion Gravy:
Place sliced onions into the skillet. Cook the onions for 5 to 6 minutes or until they have softened and begun to brown. Remove onions from skillet.
If the pan is not covered in grease from the hamburger steaks, you may need to add a teaspoon or two of butter. Add butter if needed, then add flour.
Cook the flour for 1 minute, stirring to make sure it cooks evenly.
Add beef broth, and stir until the gravy is smooth. Reduce heat to low. Cook for 2 minutes.
You can add the onions to the gravy or keep them separate.
Serve hamburger steaks by placing them on a plate.
Top with the onions and gravy.