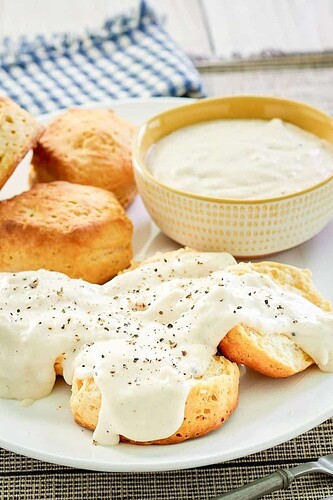 1 quart mllk
1/4 cup diced sausage
1/2 cup flour
Salt and ground white pepper to taste
1/4 cup bacon grease
1/3 cup shortening, melted
Place milk in pot, cover and place on medium heat.
Cook until milk reaches temperature of 170 degrees F.
Remove and keep hot.
Fry sausage in skillet until done and put into blender
along with any grease that accumulates.
Add enough hot milk to cover and blend to liqulty.
Put flour, salt and pepper, bacon grease and shortening in
stainless steel bowl and mix with whisk until smooth.
Add blended sausage. Add hot milk gradually to thicken mixture,
whisking constantly until gravy is thick and smooth.
Keep covered until serving time.
Serves 10.
Source: Milwaukee Sentinel, Oct 29, 1981