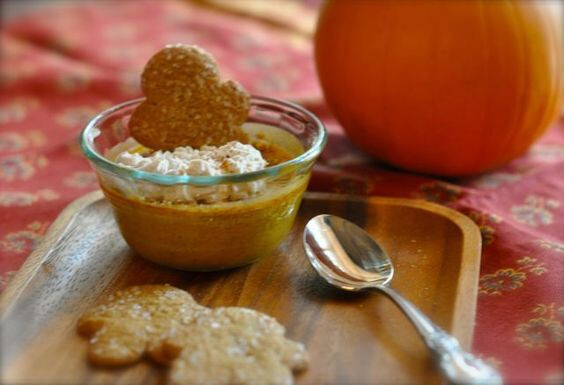 8 egg yolks
1 3/4 cup pure pumpkin puree – 1 (15 ounce) can of pure pumpkin
1 3/4 cup heavy whipping cream
1/2 cup granulated sugar
1 1/2 teaspoon pumpkin pie spice
1 teaspoon vanilla
1 cup ginger snap cookie crumbles and about 8 ginger snap cookies that are whole
1 tablespoon melted butter
1 cup heavy whipping cream
1 tablespoons granulated sugar if you have extra fine sugar this is best
1/2 teaspoon pumpkin pie spice
Preheat oven to 350 degrees.
Crack open 8 eggs, and separate the whites from the yolks.
In a medium-sized glass bowl, add egg yolks and whisk until they are creamy.
Add pumpkin,1/2 cup sugar, vanilla, 1 3/4 cups of heavy cream, and pumpkin pie spice and combine until all are incorporated.
Cook custard mixture in a double boiler. Stir until the custard has thickened and a spoon remains coated when inserted into the custard.
Pour custard into either 8 custard dishes or an 8 x 8 baking dish. Bake custard for about 20-25 minutes for custard dishes or 30-35 minutes for baking dish, until a spoon is inserted comes out clean.
Halfway through the baking process combine the 1 cup gingersnaps and 1 tablespoon melted butter, and
Sprinkle the crumb mixture over the custard while it is baking by removing the dishes from the oven, adding gingersnap crumb mixture, and returning the dishes to the oven to finish baking.
Allow the custard to cool to room temperature.
Just before serving, whisk or beat together 1 cup whipping cream, 1 tablespoon granulated sugar, and 1/4 teaspoon pumpkin pie spice until the whipped cream is thickened.
Serve pumpkin custard with pumpkin spice flavored whipped cream.