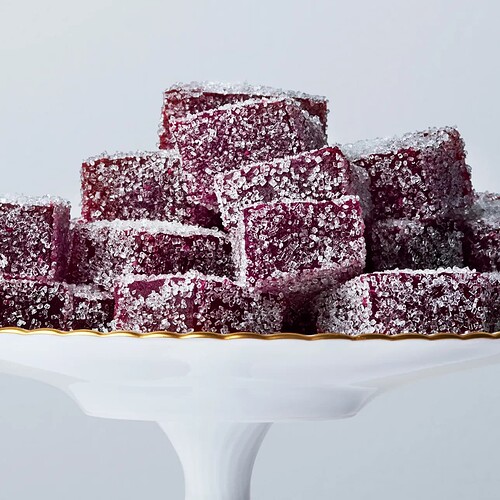 1 large green apple, peeled, chopped
1 pound fresh (or frozen, thawed) cranberries
2 cups sugar, divided, plus more for coating
2 teaspoons pectin
1 tablespoon fresh lemon juice
Line an 8x8" baking dish with parchment paper, leaving overhang on 2 sides. Puree apple, cranberries, 1 1/2 cups sugar, and 1 cup water in a blender until smooth. Transfer to a large deep heavy pot fitted with thermometer and cook over medium heat, whisking occasionally, until mixture is very thick and bubbly (it will sputter and splatter as it cooks; reduce heat if needed), 8-10 minutes.
Whisk pectin and remaining 1/2 cup sugar in a small bowl, then gradually whisk into cranberry mixture. Reduce heat to medium-low and continue to cook, whisking often, until thermometer registers 200°, 15-20 minutes (mixture will be dark red and extremely thick).
Whisk lemon juice into cranberry mixture, then scrape into prepared pan; smooth top. Let cool until set (it should feel firm when you gently press it), at least 4 hours.
Just before serving, unmold jelly onto a cutting board and cut into 1" squares. Toss jellies in sugar to coat.