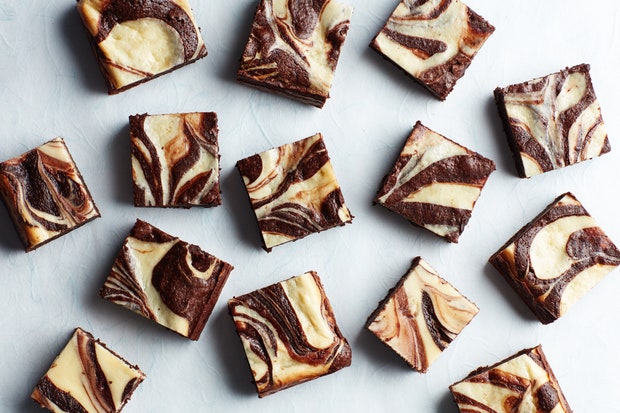 8 ounces cream cheese, room temperature
1/4 cup sugar
1 large egg, room temperature
1/4 teaspoon vanilla extract
For the brownies:
6 tablespoons unsalted butter, plus more for pan
1/4 cup cornstarch
1/4 cup unsweetened cocoa powder
1 tablespoon instant coffee or espresso powder
1/2 teaspoon kosher salt
9 ounces semisweet chocolate, coarsely chopped
1 cup sugar
1 teaspoon vanilla extract
3 large eggs, room temperature
Make the cream cheese swirl:
Using an electric mixer on high speed, beat cream cheese and sugar in a large bowl until smooth. Add egg and vanilla and beat until smooth.
Make the brownies:
Preheat oven to 350°F. Butter baking pan and line with 2 overlapping layers of parchment, leaving a 2" overhang on all sides. Butter parchment.
Whisk cornstarch, cocoa powder, coffee, and salt in a small bowl.
Combine chocolate and 6 Tbsp. butter in a large heatproof bowl set over a pot of barely simmering water, stirring occasionally, until butter and chocolate are melted and smooth. Remove from heat, then stir in sugar and vanilla. Whisk in eggs, one at a time, then whisk in cornstarch mixture until smooth, about 1 minute.
Transfer batter to prepared pan. Dollop cream cheese mixture over batter, then swirl into batter with a knife or spatula.
Bake brownies until a toothpick inserted into the center comes out with a few moist crumbs attached, about 30 minutes. Transfer pan to a wire rack and let cool completely. Using parchment overhang, transfer brownies to a cutting board. Cut into 4 pieces lengthwise, then 4 pieces crosswise to make 16 bars.
Do Ahead
Brownies can be made 3 days ahead. Store in an airtight container at room temperature.
Epicurious