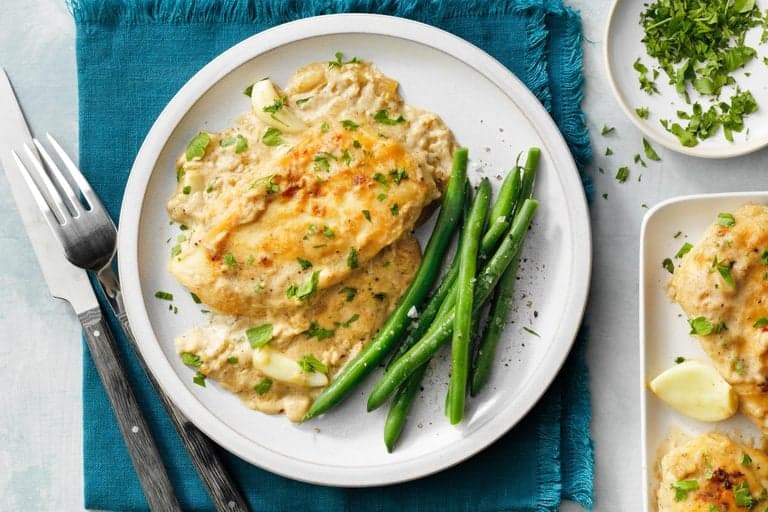 2 boneless skinless chicken breasts, halved
1/2 cup plus 1 tablespoon all-purpose flour, divided
1/4 teaspoon salt
1/4 teaspoon pepper
2 tablespoons olive oil
2 tablespoons butter
1 whole garlic bulb, peeled and separated into cloves
1 small onion, finely chopped
1 cup heavy whipping cream
1/4 cup chicken broth
1/2 teaspoon garlic powder
1/2 cup grated Parmesan cheese
2 tablespoons minced fresh parsley
Step 1: Butterfly chicken
On a clean cutting board, use a sharp knife to butterfly your chicken by halving the breasts horizontally, so you have 4 thinner pieces.
Using a meat mallet, pound chicken to 1/2-inch thickness. If you don't have a meat mallet, use a rolling pan or cast-iron skillet.
Step 2: Dredge chicken
In a shallow bowl, mix 1/2 cup flour, salt and pepper. Dredge chicken by dipping each piece into the flour mixture to coat both sides, then shaking off any excess flour.
Step 3: Cook chicken
Meanwhile, in a large skillet, heat oil over medium-high heat. Sear the chicken until it's well browned on both sides. Set the chicken aside.
Step 4: Make creamy sauce and serve
In the same skillet, melt butter on medium heat. Add garlic cloves and onion. Cook and stir until lightly browned, 2-3 minutes. Sprinkle with remaining 1 tablespoon flour, and mix well. Gradually stir in cream, broth and garlic powder. Bring to a boil. Reduce heat; cook and stir until slightly thickened, 4-6 minutes. Stir in Parmesan cheese.
Return the chicken to the pan and allow to heat through. Serve with a sprinkle of fresh parsley.
Tips:
There are a couple tricks to avoid a dried out, unappetizing chicken breast. When cooking, allow the chicken to naturally brown by not moving it around too much. Don't press on it to release the juices. And let your chicken rest before cutting into it. That will allow all the juices to reabsorb into the chicken before it's cut, giving you a perfectly moist chicken breast.