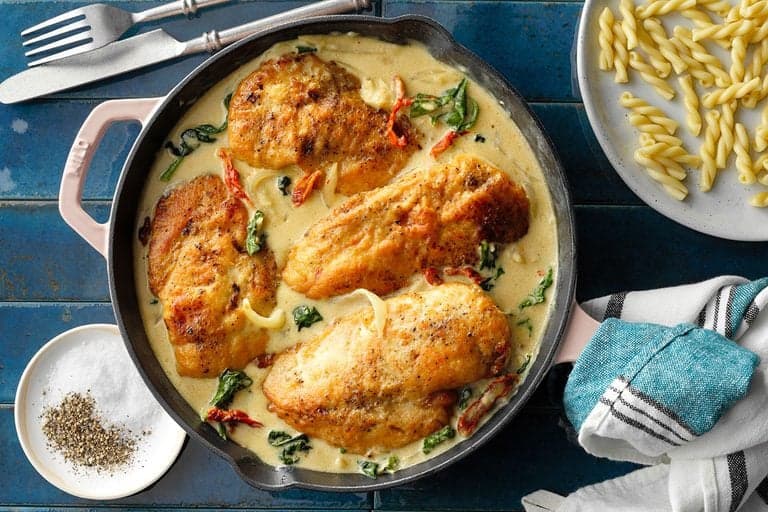 2 tablespoons olive oil
2 boneless skinless chicken breasts, halved
1/2 teaspoon salt
1/2 teaspoon pepper
1/4 cup all-purpose flour, optional
1 tablespoon butter
1 small onion, halved & sliced
2 cloves garlic, minced
1/4 cup chicken broth
1 cup heavy whipping cream
1 cup grated Parmesan cheese, divided
3/4 teaspoons garlic powder
2 cups fresh baby spinach
1/3 cup julienned soft sun-dried tomatoes (not packed in oil)
Step 1: Season chicken
On a clean cutting board, use a sharp knife to halve your chicken breasts horizontally, so you have 4 thinner chicken breasts.
Sprinkle both sides of chicken with salt and pepper. If desired, dredge chicken in flour, shaking off any excess flour before searing.
Step 2: Sear chicken
Heat oil in a large skillet over medium heat. Sear chicken on one side, resisting the urge to move it around! Once you can move it easily and it's browned, flip and sear the other side.
For the best sear, make sure your chicken has been out of the fridge for at least 1/2 hour before cooking.
Step 3: Make the creamy sauce
Remove chicken from the pan and set aside. In the same pan, melt butter. Add onion and cook for a few minutes until tender. Then add garlic and cook for one more minute.
Add broth, stirring to loosen browned bits from the pan. Bring to a boil, then stir in cream, 1/2 cup Parmesan cheese and garlic powder. Reduce to a simmer and cook over medium-low heat until the sauce begins to thicken, about 5 minutes.
Step 4: Finish & Serve
Return chicken to the pan. Add spinach, tomatoes and the remaining 1/2 cup Parmesan. Cover pan and cook around 15 minutes, until a thermometer inserted in the chicken reads 165°F. Serve while still warm.