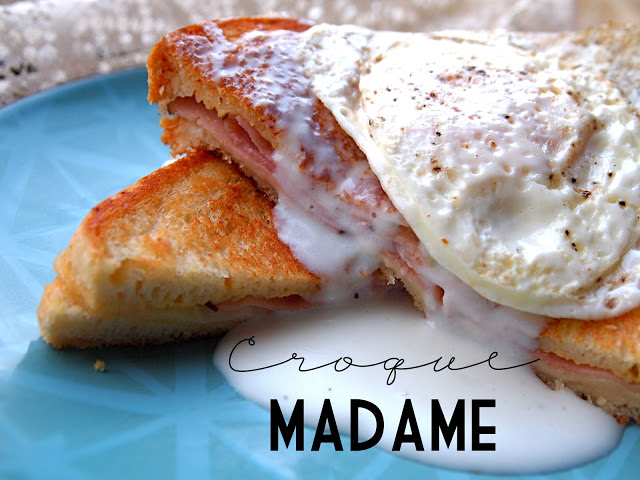 Sandwiches:
8 slices good-quality white bread
8 slices deli ham
4 slices Swiss cheese (Gruyere is even better, if you want to make it extra special)
Dijon mustard
Bechamel sauce:
1/2 c. butter, plus more to butter bread
1/2 c. flour
3 c. milk or half & half
dash of nutmeg
salt and pepper to taste
4 eggs, fried over easy or sunny-side-up
Preheat griddle over medium heat. While that's working, assemble the sandwiches: Butter one side of each slice of bread. Spread the other half of 4 of the slices with a thin layer of Dijon mustard, then layer ham and cheese, and top with the other slice of bread (butter sides out). Place sandwiches on griddle, and toast a couple of minutes on each side, until crispy, golden brown on the outside and the cheese has melted inside.
Melt butter in a medium saucepan over medium heat. Add in flour and cook for a minute or two. Season with salt and pepper, then whisk in milk. Turn heat up to medium-high, and cook, stirring frequently, until thickened. Stir in a dash of nutmeg. Taste and adjust seasonings.
Pour some sauce over each sandwich, and top with an egg.