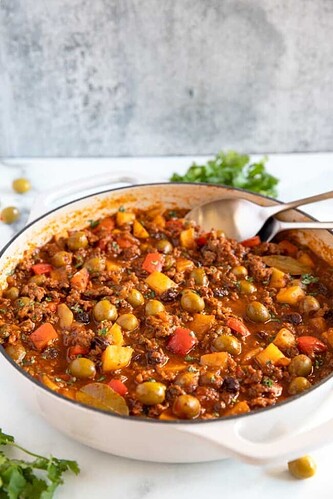 2 tablespoons olive oil
1 medium onion, finely chopped
1 small red bell pepper, cored, seeded and chopped
4 garlic cloves, minced
1 tablespoon tomato paste
1 1/2 pounds ground beef (I use 93% lean)
2 teaspoons ground cumin
1 teaspoon dried oregano
2 teaspoons salt (use less if you are sensitive to sodium)
1/2 teaspoon ground black pepper
3/4 cup beef broth (you can use white wine as well)
1 (15-ounces) can tomato sauce
2 tablespoon Worcestershire sauce
2 bay leaves
1/3 cup raisins
3/4 cup pimento stuffed olives
2 tablespoons capers
2 medium red potatoes, peeled and cut into 1/4 inch cubes
1 tablespoon chopped cilantro
In a large skillet over medium-high heat, heat the olive oil. Add the onions and bell peppers and cook, stirring frequently for about 5 minutes or until soften. Stir in the garlic and tomato paste and cook for about a minute.
Stir in the ground beef and cook, breaking up the meat into smaller pieces with a wooden spoon. Cook until no longer pink.
Add the cumin, oregano, salt and pepper and stir to combine. Add the beef broth or wine and bring to a boil. Cook for about 2 minutes.
Stir in the tomato sauce, Worcestershire sauce, bay leaves, raisins, olives, capers and potatoes. Cover and simmer over low heat for 10 to 14 minutes or until the potatoes are tender, stirring a few times during the cooking.
Add the cilantro and stir well. Adjust seasoning if needed and serve.