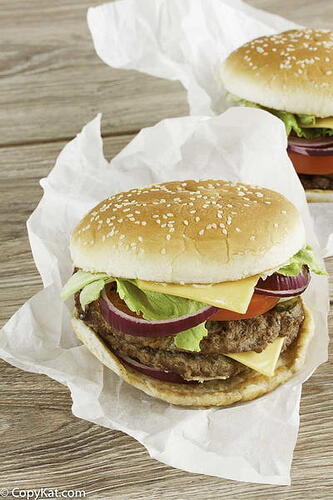 4 sesame seed hamburger buns
1 tablespoon butter at room temperature
1 pound ground chuck
1/2 teaspoon salt
1/2 teaspoon black pepper
4 slices of American cheese
4 slices of onion
8 - 12 dill pickles
8 tomato slices
Heat a large skillet over medium heat.
Place butter in the skillet and swirl the butter around in the pan.
Lay hamburger buns down in the melted. Allow the buns to toast for about 60 seconds.
Remove buns from pan.
Form 4 patties and lay in the skillet. Take your spatula and press down on the hamburger patties.
Take a large soup can that has been wrapped with aluminum foil and press the meat pattie onto the skillet.
In about 2 minutes the burger pattie will have cooked on one side, flip over.
Season patties with salt and pepper. In about 60 seconds the other side of the burger will be cooked.
If you want to make, cheeseburgers add cheese when you flip the burger over to the other side.
Remove meat patties and place on the bun. Add desired toppings to your burger.