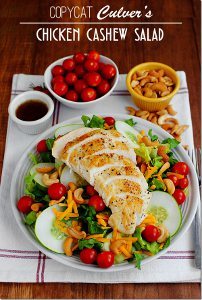 Chicken breasts (1 per serving)
Extra virgin olive oil
Salt & pepper
Romaine lettuce, chopped (4 cups per serving)
Cucumber slices
Cherry tomatoes
Cashew halves
Sharp cheddar cheese, freshly grated
Raspberry Vinaigrette, or your dressing of choice
Heat a large skillet over medium-high heat, or a grill to high. Brush chicken breasts on both sides with extra virgin olive oil, then season with salt and pepper. Cook for 4-5 minutes a side, or until no longer pink in the center. Remove to a plate and let rest for 5 minutes, then slice.
In the meantime, divide lettuce between plates. Top with cucumber slices, cherry tomatoes, cashew halves, cheddar cheese, and the cooked chicken.