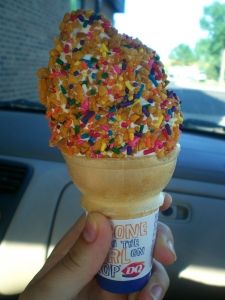 2 cups praline peanuts
2-3 tablespoons multi-colored sprinkles
vanilla ice cream
cones
In a food processor pulse praline peanuts a few times, until it resembles coarse crumbles, do not over process.
Pour peanuts into a bowl and add sprinkles, you can add more or less based upon your taste, we like more.
Mix the peanuts and sprinkles together and serve.
Roll your ice-cream cone in the mix, I tend to press it in, making sure to get the most Crunch Cone per bite.
You can also top a bowl of ice cream.