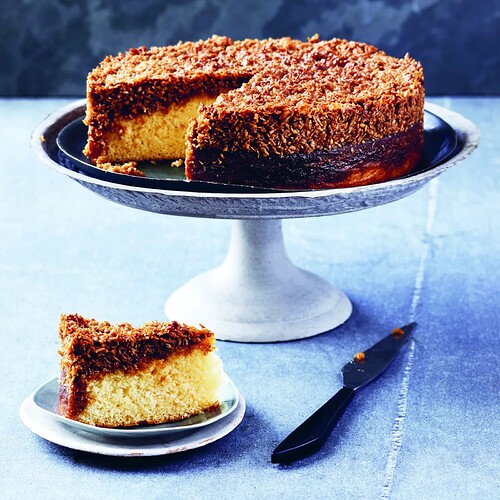 This Danish Dream Cake (or 'Drømmekage fra Brovst') originates from Brovst, a village in Jutland. In 1965 a young girl baked her grandmother's secret family recipe in a competition and won, and the cake has been a favorite of Danes ever since. No wonder: This cake is remarkably light and fluffy, with a delicious coconut topping.
3 eggs
1 cup granulated sugar
1⁄2 tsp. vanilla sugar (see note)
1¾ cups all-purpose flour or cake flour
2 tsp. baking powder
2⁄3 cup whole milk
3⁄4 stick butter, melted
For the topping:
1 stick butter
1½ cups dried shredded coconut
1¼ cups dark brown sugar
1⁄3 cup whole milk
pinch salt
Preheat the oven to 375°F. Prepare a 9-inch springform or round cake pan, greased and lined with baking parchment.
In the bowl of a stand mixer, whisk the eggs, granulated sugar and vanilla sugar on a high speed for a few minutes, until white and light. Meanwhile, in a separate bowl, sift the flour and baking powder together.
Carefully fold the flour into the egg mixture. Mix the milk with the melted butter in a jug/pitcher and carefully pour into the batter, folding it in until incorporated. Pour the batter into the prepared cake pan.
Bake in the preheated oven for 35–40 minutes, or until almost done (try not to open the oven door for the first 20 minutes of the total baking time).
To make the topping, put all the ingredients in a saucepan and gently melt together.
Remove the cake from the oven and carefully spread the topping all over the cake. Return to the oven. Turn up the heat to 400°F and bake for a further 5 minutes.
Leave cake to cool before eating.
Note
You can buy vanilla sugar in Scandinavian food shops, but it's also easy to make at home. Add 1 cup powdered sugar to a small food processor with a dried-out vanilla bean. Pulse until completely pulverized, then sift out any large pieces of the vanilla bean.