Davanti Enoteca's Smoked Salmon & Cucumber Yogurt with Toasted Ciabatta
Today I have a 5 star secret recipe(below) from one of the best Italian restaurants in Chicago. Davanti Enoteca serves up hearty Italian fare and numerous wines in a warm setting. They serve a delicious appetizer of smoked salmon with a fresh cucumber yogurt on toasted ciabatta bread.
If you want to make your ciabatta from scratch, try this recipe from our forum: Go Here
Enjoy!
=-=-=-=-=-=-=-=-=-=-=-=-=-=
Lose Weight While Still Enjoying Your Favorite Restaurants
Try this Water Hack.
=-=-=-=-=-=-=-=-=-=-=-=-=-=
=-=-=-=-=-=-=-=-=-=-=-=-=-=
New 5 Star Secret Recipe
=-=-=-=-=-=-=-=-=-=-=-=-=-=
Davanti Enoteca's Smoked Salmon & Cucumber Yogurt with Toasted Ciabatta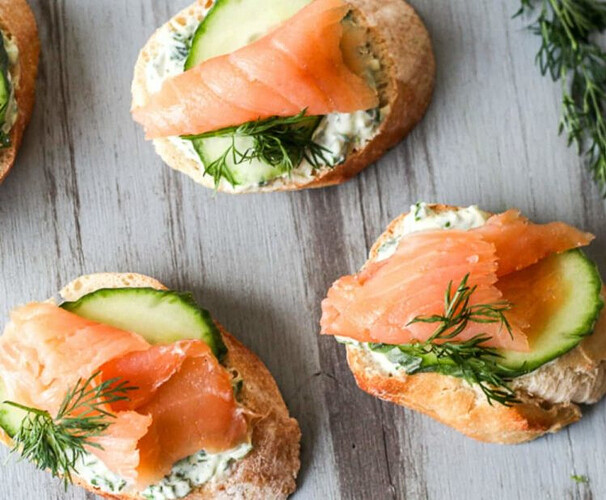 Cucumber yogurt:
1/2 c diced cucumber
1 tsp dill
1 Tbsp chopped capers
1/2 c Greek yogurt
1/4 c mayonnaise
2 tsp lemon zest
salt to taste
6 slices ciabatta bread
2 Tbsp canola oil
Salmon:
2 oz smoked salmon
1/4 c diced red onion
1 Tbsp chopped chives
For cucumber yogurt:
Press diced cucumber in cheesecloth to remove excess water. Move cucumber to a mixing bowl and stir together with dill, capers, Greek yogurt, mayonnaise, and lemon zest. Season to taste with salt. Chill in refrigerator.
For the bread:
Preheat oven to 350 degrees. Brush ciabatta slices lightly with canola oil. Toast for 8-10 minutes until golden brown. Set aside.
For the salmon:
Julienne the smoked salmon and move to a mixing bowl. Combine together with red onion and chives. Chill in refrigerator.
To serve:
When ready to assemble, transfer cucumber- yogurt mixture to a serving bowl and top with chilled smoked salmon. Serve with toasted ciabatta.
Serves 4-6
Source: Dining Out Chicago
Until Next Time… Be Well!
Kind Regards,