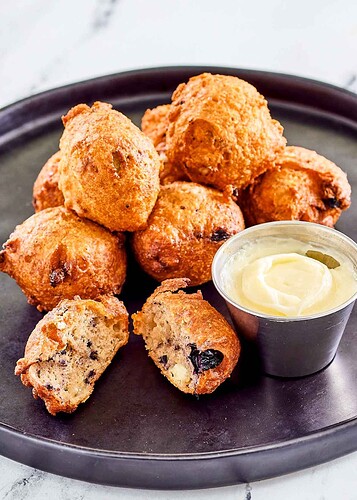 Pancake Puppies
4 cups vegetable oil
2 cups Krusteaz blueberry pancake mix
1 cup water
1/2 cup powdered sugar
1/3 cup white chocolate chips
Cheesecake Dipping Sauce
3 tablespoons butter softened
3 tablespoons cream cheese softened
2 cups powdered sugar
1/8 teaspoon salt
1/4 teaspoon vanilla extract
Pancake Puppies
In a heavy-duty pot over medium heat, heat the vegetable oil to 350°F.
In a medium bowl, combine the pancake mix, water, powdered sugar, and white chocolate chips. Mix until blended.
Use a cookie scoop to scoop balls of pancake batter and drop them into the hot oil.
When the pancake balls turn brown on the bottom side, flip them over with a slotted spoon and cook until the other side has browned.
Remove the cooked pancake puppies from the oil and drain them on paper towels.
Dipping Sauce
Place the softened butter and cream cheese in a bowl. Mix with an electric mixer until smooth and creamy.
Gradually add the powdered sugar, mixing on low speed until fully incorporated.
Add the salt and vanilla. Increase the speed to medium and beat until it is light and fluffy.
If you want a thinner dipping sauce, add a little cream or milk until it reaches your desired consistency.