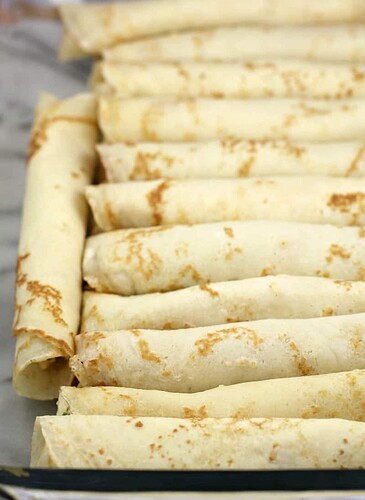 =-=-=-=-=-=-=-=-=-=-=-=-=-=-=-=-=-=-=
Tired of Exercising and Dieting?
It's Time to Try
BioPls Slim Pro
=-=-=-=-=-=-=-=-=-=-=-=-=-=-=-=-=-=-=
Ingredients:
1/2 c. onion, Chopped
1/2 c. butter (or margarine)
1/2 c. flour
2 T mustard
1 T Worcestershire sauce
1/2 t salt
2 T chili sauce
2 T parsley, Minced
2 ds to taste
3 c. milk
2 eggs, beaten
1 lb lump crabmeat
20 crepes, cooked up to 22
3 T butter, melted
Havarti cheese, shredded
Crepe Batter
3 eggs
2 c. flour
1/4 c. butter, Melted
1/4 t salt
2 c. milk
Directions:
Cook onions in 1/2 cup butter until tender. Stir in flour, mustard, Worcestershire sauce, salt, chili sauce, parsley and hot pepper sauce. Add milk. Cook over low heat, stirring constantly, until thickened. Stir a small amount of hot mixture into beaten eggs, the return egg mixture to pan. Cook, stirring, for several minutes. Add crabmeat. Fill crepes with crabmeat mixture, fold over. Brush filled crepes with melted butter or add Havarti cheese on top. Heat in 350 degree oven for 10 to 15 minutes.

Combine ingredients in a blender jar, blend for about 1 minute. Scrape down sides with rubber spatula and blend for another 15 seconds or until smooth. Refrigerate batter at least 1 hour. Cook on upside-down
crepe griddle or in traditional pan. These freeze very well.
Makes 20 to 22 crepes.
3rd Place Winner of the Hot Dish division in the 1990 Crab Cooking Contest
Enjoy!
Until Next Time… Be Well!
Kind Regards,
RSN