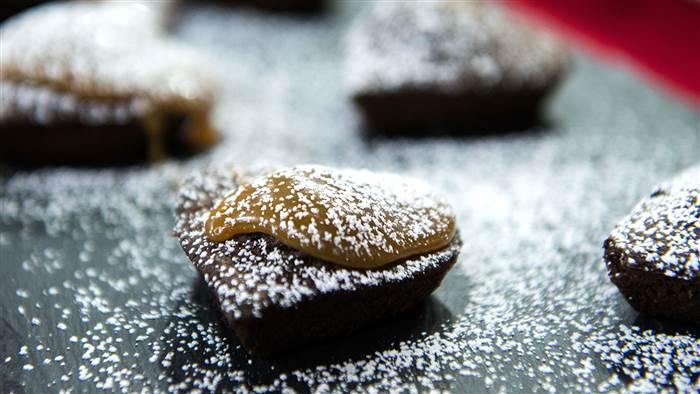 CAKE
22 ounces all-purpose flour
11 ounces sugar
9 ounces cocoa powder
1 tablespoon baking soda
1/2 tablespoon baking powder
1/2 teaspoon salt
1 cup buttermilk
4 eggs
1½ cups coffee
6 ounces (3/4 stick) butter, melted
Nonstick cooking spray
CARAMEL SAUCE
3 cups sugar
2½ cups cream
1/2 teaspoon salt
1 teaspoon vanilla
MASCARPONE CREAM
2 cups cream, cold
1 cup mascarpone cheese
1/2 cup powdered sugar
3 ounces Dutch process cocoa powder
1/2 vanilla bean, split and scraped, seeds reserved
For the devil's food cake:
Preheat oven to 350°F. Spray the cake pans with nonstick cooking spray and set aside.
Mix the flour, sugar, cocoa powder, baking soda, baking powder and salt in a stand mixer fitted with a whisk attachment.
In a separate bowl, mix the buttermilk and coffee. Add buttermilk mixture to the bowl of the stand mixer in 3 stages. Blend well between each addition and scrape down the sides of the bowl at each stage. Add the melted butter last, and mix well.
Fill heart shaped cake pans half way. Bake until the center springs back when touched.
Let the cakes cool completely before removing them from the pans.
For the caramel sauce:
Cook sugar on medium-high heat until amber colored.
Add cream slowly (the caramel will bubble vigorously) while whisking. Stir in the salt and vanilla.
For the mascarpone cream:
Whip the cream, mascarpone, sugar, cocoa powder and vanilla bean seeds until soft peaks form.
For the assembly:
Dust heart cakes with powdered sugar, drizzle with caramel and top with a dollop of mascarpone cream.
Technique tip: If you cannot find buttermilk, you can make your own. Add 1 cup of milk to 1 tablespoon of lemon juice. Let the mixture stand for 5 to 10 minutes.
Swap option: You can easily make this red velvet style by adding red food coloring.
Special equipment: Heart-shaped cake pans