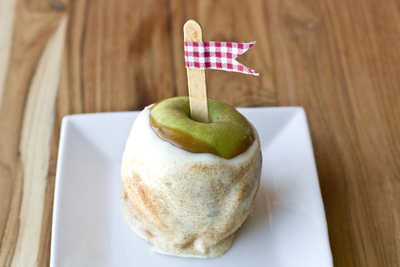 1 14-ounce package Branch's Milk Maid Caramels
5 medium Granny Smith apples
1 11-ounce bag Ghiradelli Classic White Chips
3½ Tablespoons cinnamon sugar (store bought or 3 Tablespoons white sugar + 1½ teaspoons cinnamon mixed together)
5 Popsicle sticks
Prepare a baking sheet with wax paper sprayed lightly with non-stick cooking spray, set aside.
Melt the caramels as per the package instructions.
While to caramels are melting, wash the apples and pat dry completely.
Before dipping, allow the caramel to sit for 5 minutes. Pierce the apples with the Popsicle sticks and dip into the melted and slightly cooled caramel. Using a rubber spatula, scrape the excess caramel off the bottom of the apple and place on the prepared baking sheet. Repeat with the remaining apples. Place the apples in your refrigerator for 30 minutes, or until the caramel is set.
Place the white chips in a medium heat-proof bowl and cook on half power for 1 minute. Stir and cook for 30 seconds on half power. Stir again and repeat until the chips are melted.
Remove the apples from the refrigerator and spread the white chocolate on each apple with a rubber spatula. Sprinkle with the cinnamon sugar and place the apples back on the baking sheet. Return the apples to the refrigerator to set, about 30 minutes.