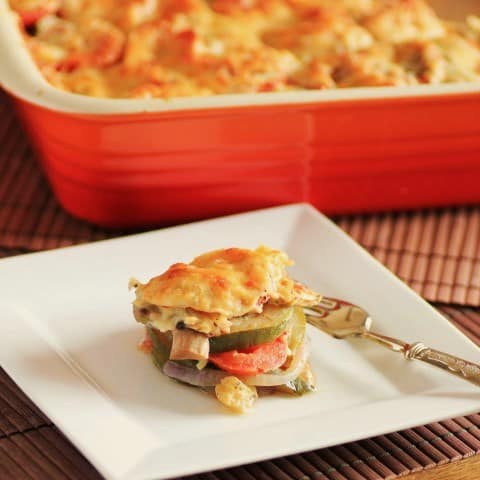 1 large eggplant
1 Tbsp. olive oil plus more for the ceramic dish
3 tsp. Herbs de Provence
2 tsp. garlic, minced
8 tomatoes, sliced
1 large zucchini, sliced
1 large red onion, sliced
1 large green pepper, sliced
10 large mushrooms, sliced
2 cups Mozarella, grated
Parmesan, freshly grated
Salt and Pepper
Peel the eggplant and dice. In a medium fry pan, add the olive oil and heat over medium heat. Add the eggplant, 2 tsp. Herbs de Provence and the garlic and stir fry until the eggplant is lightly browned. Preheat oven to 350F. Oil a 12x16" ceramic dish, add the eggplant scattered across the bottom. Add 4 of the slice tomatoes with the eggplant. Salt and pepper to taste and then grate a desired amount of Parmesan cheese on. Continue to layer veggies and salt and pepper and sprinkle Parmesan with each layer. Finish with the remaining 4 sliced tomatoes, salt and pepper to taste and sprinkle with the remaining 1 tsp. of Herbs de Provence. Sprinkle with the 2 cups mozzarella and desired amount of Parmesan. Bake in the oven for 45-55 min. until veggies are tender and the cheese has browned.