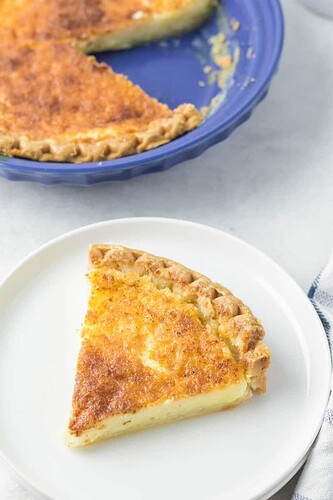 dough for a one-crust 9" pie
1 cup sugar
3 tablespoons flour
3 eggs, beaten
4 tablespoons butter, melted and cooled
1 cup buttermilk
1/2 teaspoon vanilla extract
2 tablespoons lemon juice
1 tablespoon grated lemon zest
1/2 teaspoon grated nutmeg
Preheat oven to 425 degrees.
Line a pie pan with the dough. Prick the dough with a fork and press a piece
of aluminum foil snugly into the pan, covering the dough. Bake 6 minutes.
Remove the foil and bake 6 minutes more, until the edges of the crust turn
pale brown.
Remove the pan from the oven and cool.
Mix together the sugar and flour. Beat in the eggs, then the melted butter,
buttermilk, vanilla extract, lemon juice, and zest.
Pour the filling into the cooled pie shell and bake at 425 degrees 10
minutes. Sprinkle top with nutmeg.
Lower the oven temperature to 350 degrees and bake 30 minutes more or until a knife inserted into the pie comes out clean.
Remove the pie from the oven and cool. The center will deflate as the pie
cools. Leftover pie can be refrigerated.