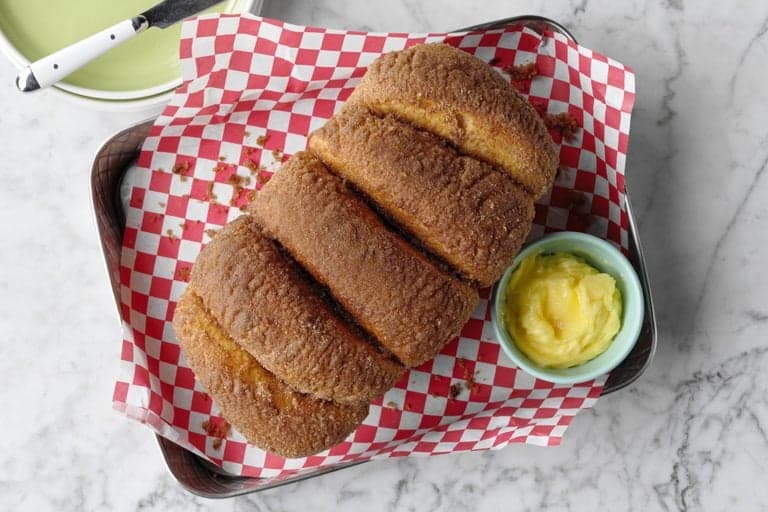 1 package (1/4 ounce) active dry yeast
1-1/4 cups warm 2% milk (110° to 115°)
2-1/2 cups bread flour
1/3 cup butter, melted
2 tablespoons sugar
1 large egg, room temperature
3/4 teaspoon salt
1-1/2 to 2 cups all-purpose flour
Topping:
1/4 cup sugar
2 teaspoons pumpkin pie spice, apple pie spice or ground cinnamon
1/4 cup butter, melted
Step 1: Proof the yeast
In a stand mixer bowl, dissolve the yeast in warm (not too hot) milk. The bread is a one-bowl recipe, making clean-up quick.
Step 2: Make a batter
Dissolve yeast in warm water, mix ingredients in to make dough
Add bread flour, butter, sugar, egg and salt. Beat on medium speed for 3 minutes.
Step 3: Add all-purpose flour
Stir in just enough all-purpose flour to form a firm dough. You may need more or less depending on the humidity, the size of your egg and other factors. The dough should be firm, not slack or sticky.
Step 4: Knead
Knead dough on a floured surface
Turn the dough onto a floured surface. Knead until smooth and elastic, about 6-8 minutes. Here's how to tell you're done kneading.
Step 5: Rise
Cover and let dough rise
Place in a greased bowl, turning once to grease the top. Cover and let rise in a warm place until doubled, about 1 hour.
Step 6: Prepare the spice
In a pie plate, combine the sugar and pie spice (or plain cinnamon, if you prefer the traditional recipe). Pour melted butter in another pie plate.
Step 7: Shape the loaf
Punch the dough down. Turn onto a lightly floured surface and shape into a loaf.
Step 8: Slash and season
Roll dough in butter and sugar and spice mixture
Using a sharp knife, make 5 slits across the bread dough. This will let the butter and sugar penetrate into the bread. Roll the dough in butter, coating all sides. Then roll in the sugar mixture.
Step 9: Final rise
Place the dough in a parchment-lined 9×5 loaf pan. Cover and let rise in a warm place until doubled in size, about 40 minutes.
About halfway through the rise, preheat oven to 375°.
Step 10: Bake
Bake until golden brown, serve warm
Bake until golden brown, 30-40 minutes. (Cover loosely with foil if the top is browning too quickly.) Cool in the pan for 10 minutes before removing to a wire rack. Serve warm, with apple butter, jam or buttercream, if desired.
Note: You can use frozen bread dough for this recipe. Just skip down to Step 8.