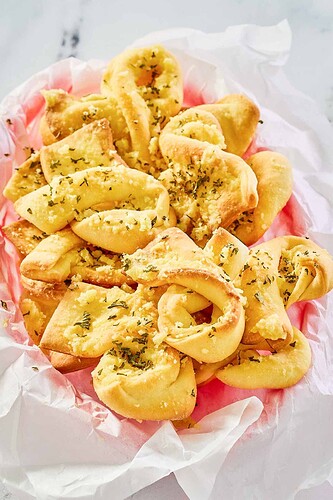 4 ounces margarine
2 teaspoons finely minced garlic
16 ounces refrigerated pizza dough
3 tablespoons parmesan cheese
½ teaspoon dried parsley
Place a small pot over low heat. Add the margarine and the garlic. Stir occasionally. Cook for about 10 minutes, stirring occasionally. Turn off the heat.
Preheat the oven to 475°F.
Sprinkle a small amount of flour onto a board.
Place the dough onto the board, and shape it into a rectangle.
After you have shaped the dough, cut it into 8 long strips, then cut those in half to make 16 strips.
Twist each bread strip only once and place it on a parchment-lined baking sheet.
Brush the melted garlic butter lightly over the strips.
Bake for 10 to 12 minutes or until golden brown.
While the twists are baking, add the parmesan cheese to the garlic butter.
When you remove the bread twists from the oven, brush them heavily with the parmesan garlic butter.
Sprinkle with parsley and serve with marinara sauce if desired.