If you are a cheese lover like me, then today's secret recipe is for you. As if a regular cheese pizza isn't cheesy enough, Domino's created the Wisconsin 6 cheese pizza which is topped with mozzarella, feta, provolone, Cheddar, Parmesan and asiago cheeses. If that wasn't already an overload of cheese for your palate, the base of this pizza is a Parmesan asiago crust.
You can make your own Domino's Pizza Sauce to use with this secret recipe from our forums: Go Here
Enjoy!
=-=-=-=-=-=-=-=-=-=-=-=-=-=-=-=-=-=-=-=-=-=-=-=-=-=-=-=-=-=-=-=-=-=-=-=
Belly Flattening Secrets Revealed!
Best Selling Author Bruce Krahn Reveals The 2-Minute Ritual
Proven to Eliminate 1 Pound Per Day of Dangerous Belly Fat.: Here
=-=-=-=-=-=-=-=-=-=-=-=-=-=-=-=-=-=-=-=-=-=-=-=-=-=-=-=-=-=-=-=-=-=-=-=
=-=-=-=-=-=-=-=-=-=
New Secret Recipe
=-=-=-=-=-=-=-=-=-=
Domino's Wisconsin 6 Cheese Pizza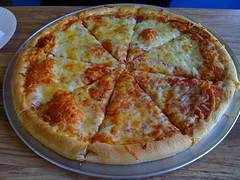 Parmesan Asiago Crust:
3 cups bread flour
1 packet active dry yeast
1 tablespoon granulated sugar
1 tablespoon vegetable oil
1/8 cup parmesan cheese
1/8 cup asiago cheese
Toppings:
1 cup pizza sauce or marinara sauce
1/2 cup grated mozzarella cheese
1/2 cup grated provolone cheese
1/2 cup feta cheese
1/2 cup cheddar cheese
1/4 cup parmesan cheese
1/4 cup asiago cheese
1 tablespoon dried oregano
Directions:
Mix together the yeast, sugar, oil and water in a large bowl. Let rest until foamy.

Add half the flour and all of the salt. Use your hands to incorporate the ingredients until well blended.

Add the cheeses and another 1/2 cup of the flour. Incorporate these into the mixture.

Repeat until all the flour is gone.

Set the dough onto a floured area and knead for about five minutes.

Coat a large bowl with oil. Set dough in bowl, cover and let rise for about 1 1/2 hours, or until the dough ball has grown twice as large.

Heat oven to 450 degrees F.

Place the dough onto a floured area and work into a 14-inch round.

Top with sauce and then the cheeses. Finish up with a dusting of the oregano.

Place on bottom rack for about 10 minutes or until done.
Source: Recipe Secrets Forum
Until Next Time… Be Well!
Kind Regards,
RSN
=-=-=-=-=-=-=-=-=-=-=-=-=-=-=-=-=-=
RECOMMENDED:
1) Complete Vegan System
With Our 1-Month Vegan Diet Plan, You Will Easily Succeed: Go Here
2) Meal Planning Made Simple
Meal Prep Guide, Burn the Fat, Feed the Muscle Guide
To Flexible Meal Plan for Fat-Loss Burning: Go Here
=-=-=-=-=-=-=-=-=-=-=-=-=-=-=-=-=-=