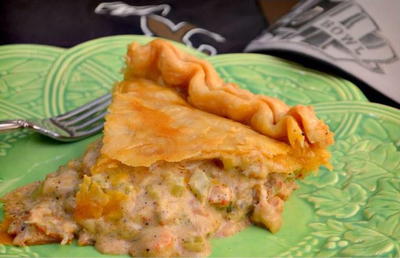 3 pounds Crawfish tails, cooked in 1 stick butter
¼ cup olive oil
¼ cup butter
¼ cup green onions, chopped fine
1 large white onion, chopped fine
1 bell pepper, chopped fine
2 celery stalks, chopped fine
2 tablespoons minced garlic
1 can cream mushroom soup
1 can evaporated milk
2 tablespoons cornstarch
2 teaspoon Old Bay seasoning
2 teaspoons Cajun seasoning (1 to season veggies and 1 to season crawfish)
1 teaspoon black pepper
2- 9 inch pie shells (2 bottoms and 2 tops)
Preheat oven to 350 degrees.
In a large skillet, melt one stick of butter and add 3 pounds of crawfish tails.
In another skillet, add the olive oil and ¼ cup butter and sauté the onions, bell pepper, and celery. Cook the vegetables 8 to 10 minutes.
Add the minced garlic and 1 teaspoon Cajun seasoning.
Once the vegetables have cooked, add them to the skillet with the crawfish.
Add 1 can cream mushroom soup to the vegetables and crawfish.
Wisk the cornstarch with the evaporated milk and it to the vegetables and crawfish.
Cook until mixture thickens.
Add 2 teaspoons Old Bay seasoning.
Add the other teaspoon Cajun seasoning.
Add 1 teaspoon black pepper.
Prick the bottom of the two pie shells.
Add the crawfish mixture.
Place the other pie crust on top of each crawfish mixture and prick with a fork.
Place the pie in the preheated 350 degree oven.
Bake for 30 minutes or until golden brown.